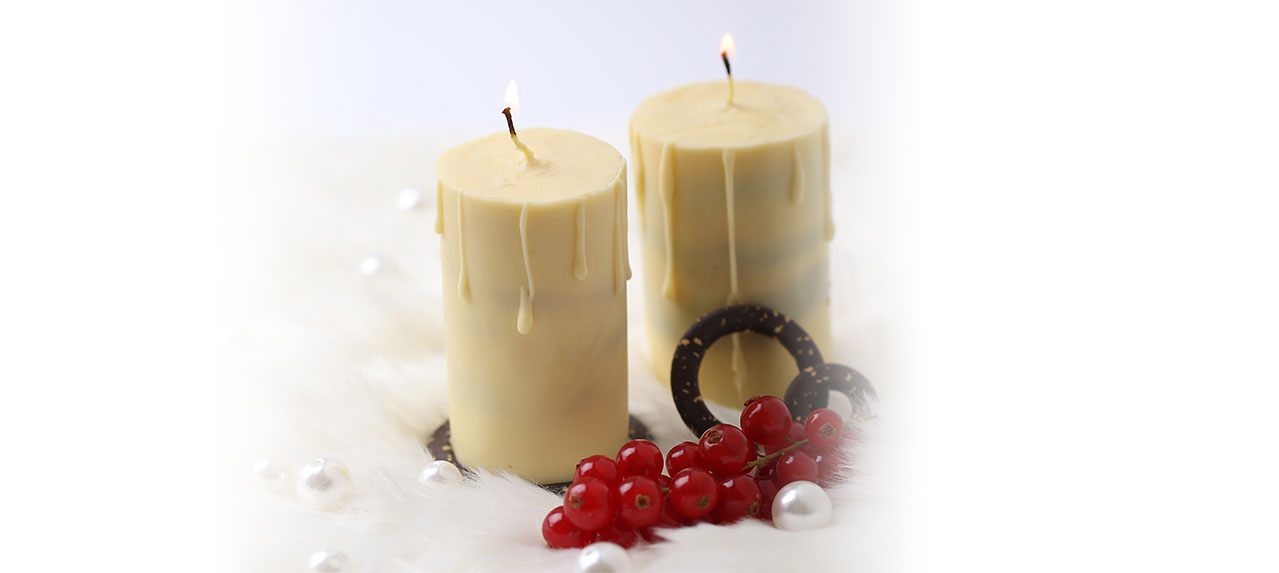 Candle Mould
100g white chocolate
Chocolate Mousse
100g melted white chocolate
1 egg yolk
75g liquid milk
35g fresh cream
110g whipping cream
1 piece of gelatin
Half a vanilla pod
Chocolate Biscuit
40g egg white
40g sugar
1 egg yolk
10g cacao
1 piece wax candle
1. Take a glass bottle that has straight sides, and wrap around some firm plastic and tape.
2. Remove the plastic cover from the bottle.
3. Grate the white chocolate then melt in a microwave or double boiler. Stir every 10 seconds.
4. Spread the melted white chocolate on the inside of the plastic and leave to set.
5. For the chocolate biscuit, whisk the egg whites with the sugar until stiff. Whisk the egg yolk and the cacao and fold in the egg white.
6. Line a baking tray with greaseproof paper.
7. Add the biscuit mixture and bake it at 200°C for about 5 minutes. Leave to cool.
8. For the white chocolate mousse, whisk the egg yolk and sugar together.
9. Heat the milk, fresh cream and vanilla and pour onto the egg yolk mixture and mix.
10. Meanwhile, place the gelatin leaf in cold water to soften. Add the softened gelatin and melted white chocolate to cream mixture.
11. Fold in the whipped cream.
12. For assembly, cut out 2 circles of chocolate biscuit and spread with jam. Place 1 piece at the bottom of the candle. Add some mousse and place another piece of biscuit. Fill with remaining mousse. Place in the fridge to set. Once set, make a small hole in the center and insert the wax candle.
Decorate with the remaining melted chocolate.