MODERN ORIENTAL TURKEY WITH FREEKEH

Serves 4-5 | prep/cooking time 45 mins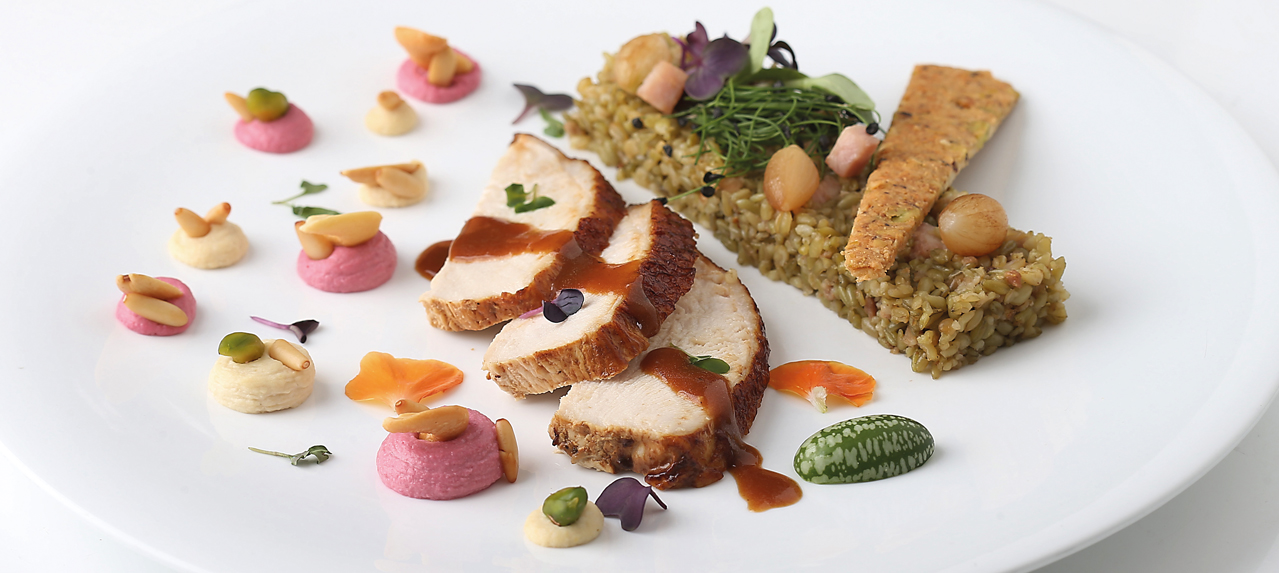 Chicken Roll
Turkey
• 1 kg turkey breast with skin
• 1 bouquet garni
• Sunflower oil
• Salt and freshly ground pepper, to taste
Freekeh
• ½ kg freekeh
• 100g silver onions
• 200g bacon or turkey bacon
• 50g butter
• 1¼ L chicken stock
• Salt and freshly ground pepper, to taste
Gravy
• Pan juice from the roast turkey
• ¼ L chicken stock
• 50 ml white wine
• Roux – cornstarch and water
1. Season the turkey breast with salt and pepper.
2. In a non-stick fry pan over medium-high heat, heat the sunflower oil until very hot. Add the turkey breast and cook until all the sides are golden brown. Then place the turkey breasts in a roasting pan; cook in an oven at 180°C for 30 minutes. Keep the juice aside for the gravy sauce.
3. Wash the freekeh thoroughly.
4. Melt the butter in a pan, sauté the silver onions and the bacon. Add the drained freekeh, the salt and pepper. Place the chicken stock, bring to boil, stirring occasionally. Cover the saucepan with a tightly fitting lid. Lower heat and simmer until all water is absorbed and grains are tender.
5. Boil the juice of the roast turkey and the white wine in a frying pan. Add the chicken stock. Cook, stirring to remove the brown bits in bottom of pan.
6. Mix the cornstarch with the cold water, stirring until smooth. Stir into pan, bring to boil and boil until reduced to half. Add salt and crushed pepper.
7. Garnish the plate with hummus, beetroot hummus, fried almonds, pistachio, pine nuts, fresh micro herbs and nut crackers.