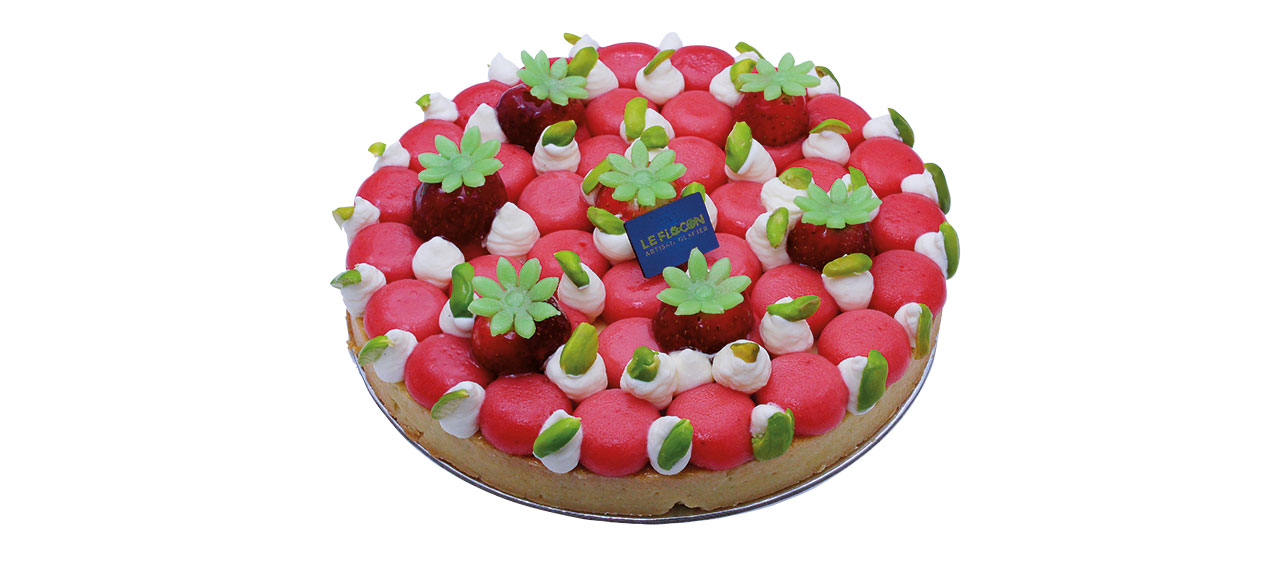 Sablé dough
145g butter
60g sugar
40g milk
190g flour
60g almond powder
Vanilla parfait
500g whole milk
190g cream
180g sugar
80g egg yolks
1 vanilla pod
Strawberry sorbet
600g fresh strawberries
100g water
230g sugar
20g lemon juice
For the sablé dough
1. Mix the butter with the sugar.
2. Blanch the mixture with the blade of the blender.
3. Heat the milk and add to the almond powder.
4. Incorporate the flour to the blanched butter.
5. Pipe out the shortbread with a N°10 pastry bag in pre-buttered circles of 18 cm.
6. Cook at 170°C for 12 minutes.
For the vanilla iced parfait
1. Heat the milk with the vanilla pod at 30°C, add the sugar.
2. At 40°C add the egg yolks.
3. Cook at 85°C.
4. Mix and leave to cool at 20°C.
5. Add the whipping cream.
6. Store in the freezer.
For the strawberry sorbet
1. Make syrup with water and the lemon juice.
2. At 40°C, add the sugar.
3. Bring to a boil. Leave to cool quickly at 4°C.
4. Add the mixed strawberries. Mix and glaze in your ice-cream maker. Put in a half sphere silicone mould of a diameter of 2 cm.
5. Store in the freezer.
Assembling
1. On the praline sablé base, pipe out the vanilla iced parfait and arrange the balls of strawberry sorbet.
2. Decorate with fresh strawberries, pistachios and whipping cream.