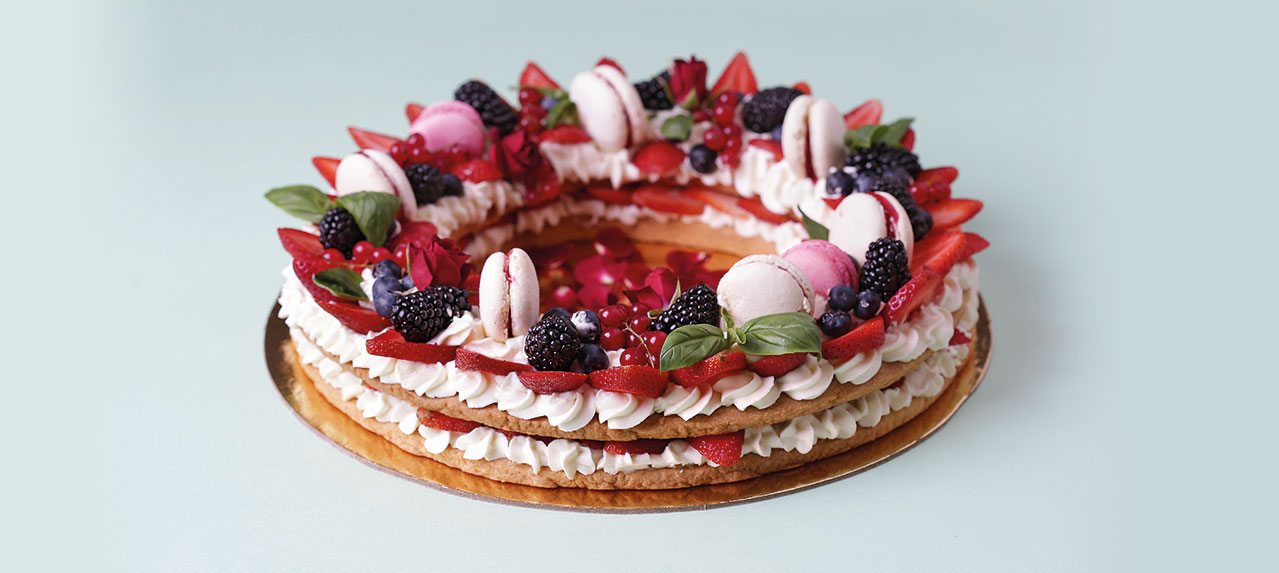 Palet Breton
4 egg yolks
150g soft butter
150g sugar
220g flour
8g baking powder
3 pinches of Guerande sea salt
Almond cream
100g sugar
100g butter
100g almond powder
2 eggs
4 drops of bitter almond essence
Pastry cream with Mascarpone
500ml milk
90g sugar
2 eggs
60g cornflour
150g mascarpone cheese
1 pinch of salt
Garnish: Strawberries, blackberries, raspberries, cherries, redcurrants, icing sugar, raspberry mash
For the dough
1. Beat the yolk with the sugar until light, add the butter and yeast, mix well, add the flour, roll into a ball, and refrigerate to firm up.
2. Spread the dough according to your choice, rest it for ½ hour and heat the oven.
For the almond cream
Mix the butter and sugar, add all the rest of the ingredients, cover the raw dough, spread evenly and bake 40 minutes.
For the pastry cream
1. In a saucepan, add the milk, half of the sugar, scrape the vanilla pod with a knife, and add the seeds to the milk.
2. In a bowl beat the whole eggs with the remaining sugar until the mixture turns white.
3. Add the cornflour, when the cream is flexible pour half of the milk into the pan.
4. Replace the pan on low heat. Stir constantly until the cream is thick. Finally when the cream is sufficiently cooked, turn off the heat, add a pinch of salt and allow to cool down.
5. Later on, add the mascarpone cheese gradually while whipping.
6. Put it in a pastry bag and decorate your dessert.
7. Garnish it with fruits, macarons and edible flowers.