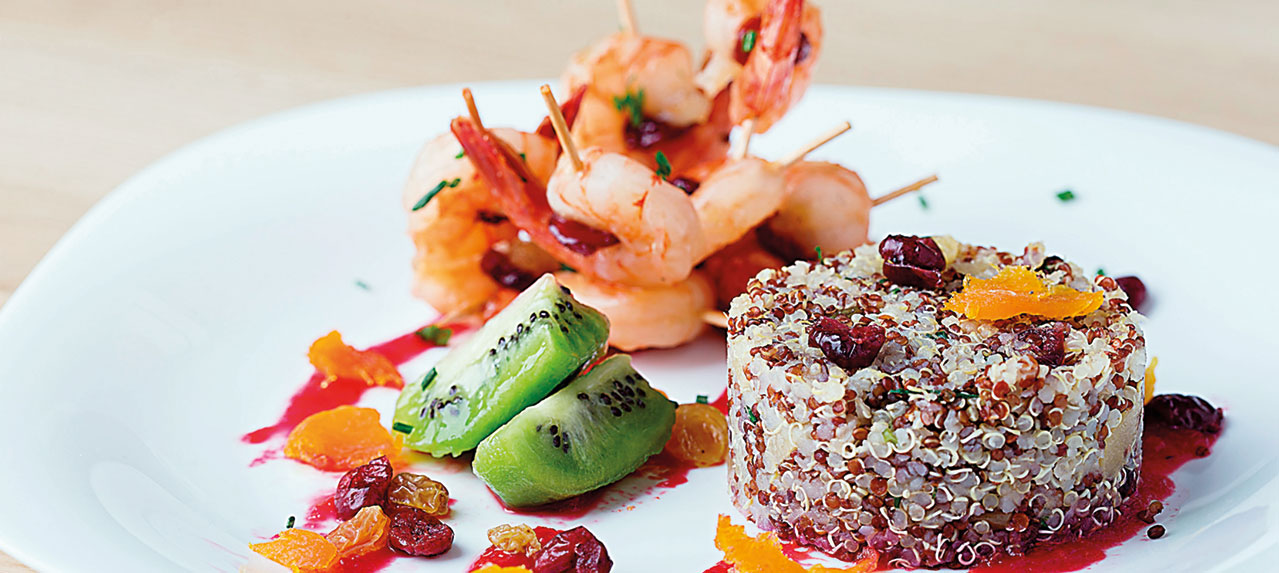 10 pieces of shrimp (21/26)
½ cup raw quinoa
5g dried cranberries
5g dried raisins
15g dried shredded apricots
¼ cup very fine parsley
1 tbsp Extra Virgin olive oil
1 piece unpeeled garlic
1/3 cup fresh orange juice
White pepper
Salt
Sauce
20g dried cranberries
30g chopped red onions
1 minced garlic
1 tbsp olive oil
10g very fine celery
½ cup beet juice
½ cup orange juice
2 tbsp pureed mango
50g kiwi cubes
White pepper
Nutmeg
Sea salt
1. One day ahead, marinate shrimp in a mix of Extra Virgin olive oil, fresh orange juice, unpeeled garlic, salt and white pepper.
2. Boil ½ cup of quinoa in 1 cup of water for 20 minutes. Add the dried fruits and parsley to the cooked quinoa. Heat the oil in a large pan over medium heat to make the sauce.
3. Add minced garlic, chopped red onion, celery and dried cranberries and sauté for a few seconds before adding the fresh juices. Reduce the heat and simmer covered until the liquid is reduced, then add the pureed mango. Season with white pepper, nutmeg and salt.
4. In a separate heated pan, sauté the marinated shrimp over medium high heat for about 3 minutes.
5. Serve the quinoa on the side of the shrimp circled by the sauce. Garnish with fresh kiwi and dried fruits.