SEARED STRIPLOIN WITH ACTIVATED CHARCOAL EGGPLANT
Serves 1 | Prep/cooking time 48mins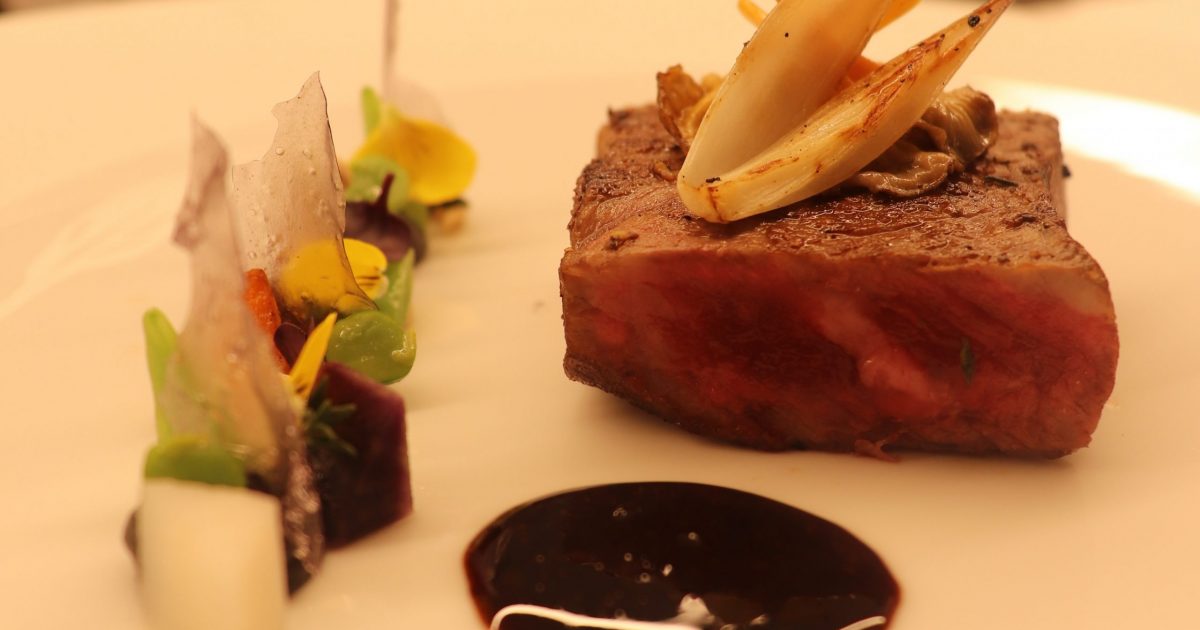 80 g Australian beef striploin
5 g chanterelle mushrooms
3 g shimeji mushrooms
100 g purple potato
3 g snow peas
3 g parsnip
3  butternut squash
1 French thyme
1 pcs eatable flower
2 g French thyme
30 ml beef jus
5 g teriyaki sauce
3 g honey
1 pinch pink salt
20 g large eggplant
5 g mascarpone cheese
0.5 g pine nut puree
1 g apple cider vinegar
1 g royal honey
5 g vegetable stock
Purple potato chips
Squeeze the purple potato to get the juice then steam it.
Place the mixture on baking mat in the dehydrator, then bake it on the salamander.
French thyme teriyaki sauce
Reduce the beef jus with French thyme to get thee flavour.
Add teriyaki sauce and honey.
Activated charcoal eggplant
Grill the eggplant in the Josper with the skin.
Place it in the blender add pink salt, olive oil and activated charcoal and blend it until smooth.
Pine nut puree
In a blender place the pine nut with apple vinegar, honey, pink salt and vegetable stock.
Searing the striploin
Marinate the striploin with French thyme pink salt and fresh black pepper.
Sear it in pan.
 Searing the chanterelle mushrooms 
In a pan on medium heat place olive oil then the diced shallots, chanterelle mushrooms finish it with pink salt and black pepper.
Searing the shallots
Sous vide the shallots on 70 degree Celsius for 10 min.
Add coconut sugar and, in a pan, add olive oil and ear it.
Plating
Place the activated charcoal and pine nut puree then place the seared vegetables in between together with purple potato chips and edible flower.
Place the seared striploin then on top thee mushroom and seared shallots.
Finish it with the French thyme teriyaki sauce.
Allergens : NUTS AND dairy