BY PASTRY CHEF INSTRUCTOR GLENN NOEL
Makes 24 pieces | Prep/cooking 30 mins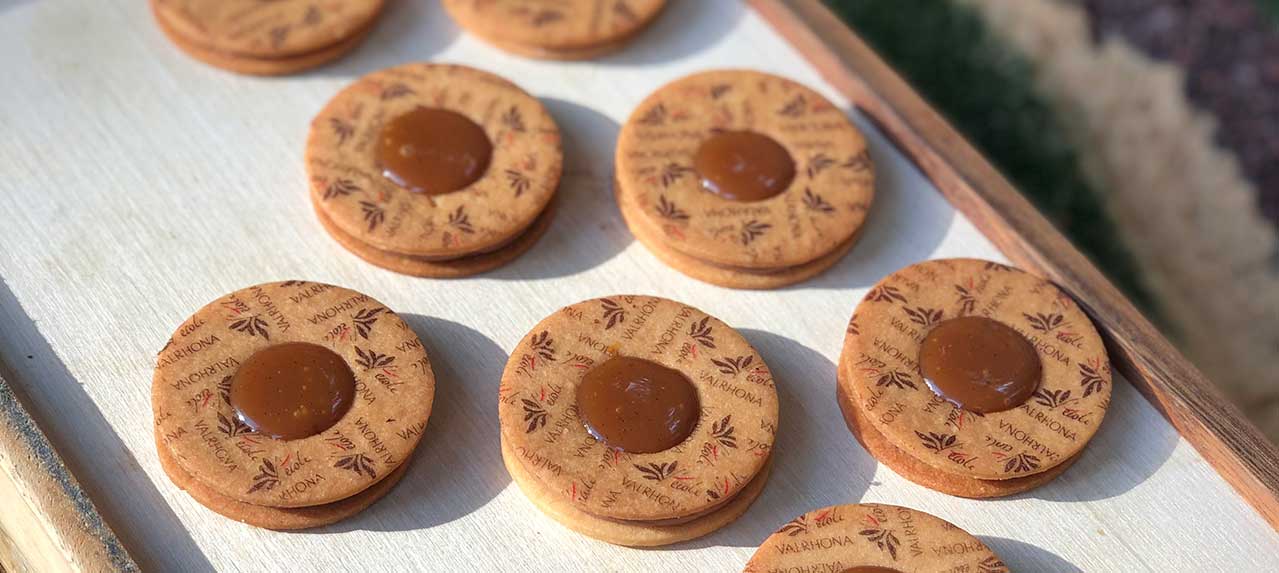 600g Coconut Praline
200g Bahibe Milk 46% Couverture
640g Soft-wheat flour
330g  Butter
250g  Icing sugar
82g  Ground almonds SOSA
5.5g  Salt
140g  Eggs
54 Cream 35% fat
54  Sweetened concentrated milk
0.5  Tahiti vanilla pod
70  Sugar
70  Glucose DE38/40
1. Melt the couverture to 45°C and mix with the praline.
2. Temper the mix to 24°C, leave to crystalise. Whip in a kitchen aid with a paddle, be careful not to go higher than 25/26°C. Pipe on the sable.
3. Mix the powdered ingredients with the cold, cubed butter.
4. As soon as the mixture is completely smooth, add the cold eggs. As soon as you obtain an even dough, stop mixing.
5. Store in the refrigerator or spread out immediately. Bake at 300°F (150°C).
6. Make a dry caramel with the sugar, add the glucose. De-glaze with the pre warmed cream, concentrated milk and vanilla. Bring to a boil. Leave to chill. Use at ambient temperature.
7. Make the whipped Praline and caramel sauce.
8. Roll out the shortcrust dough between to 2mm sheets of acetate. With half of the shorcrust sheets, take off one side of the acetate and place a transfer sheet on top, roll lightly with a rolling pin. Freeze.
9. Cut out discs of 7cm. With the Shortcrust sheets with the transfer, cut out discs of 7cm then cut out the middle with a cutter of 2.5cm. Cook at 150°C for around 20 minutes.
10. With a nozzle and piping bag, pipe 30g of whipped praliné on the discs without a hole.
11. Place an acetate sheet on top and flatten slightly, freeze the sables for a couple of minutes then take off the acetate sheet.
12. Using a heat gun, warm the praline then place the discs with holes in on top. Fill the hole with the caramel sauce.