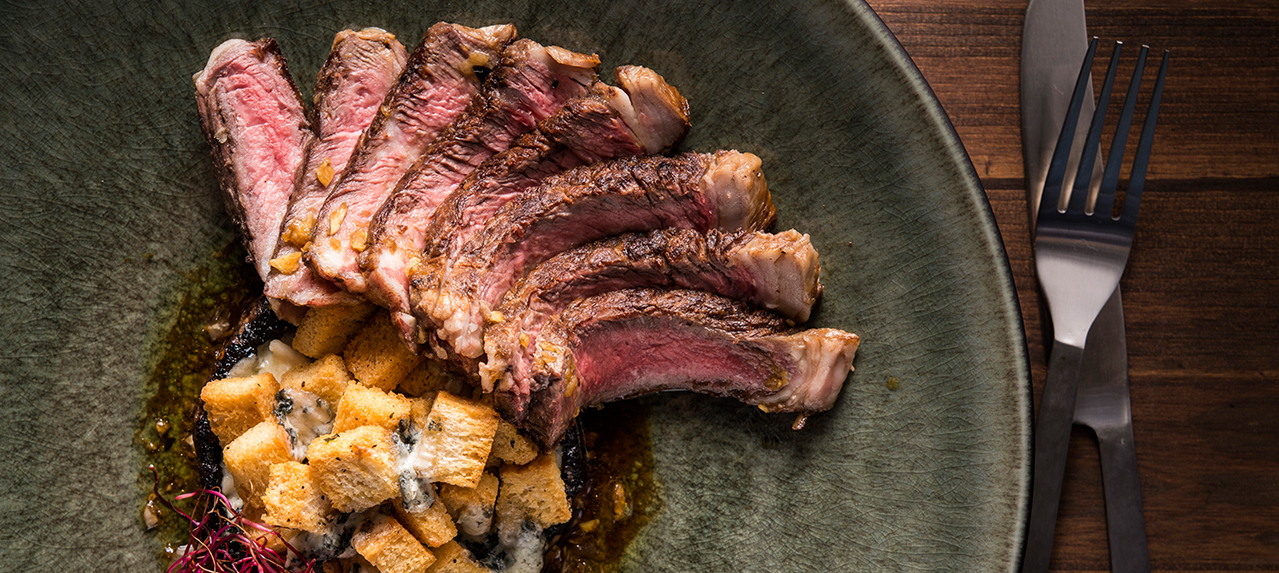 • 2 Australian rib eye steaks, about 1 inch each
Marinade
• ¼ cup extra-virgin olive oil
• 2 tbsp balsamic vinegar
• 1 tbsp soy sauce
• 1 tsp chopped fresh rosemary
• ½ tsp freshly ground black pepper
• ¼ tsp kosher salt
• ¾ cup fresh bread croutons
• ½ cup blue cheese
• Kosher salt as needed
• Freshly ground black pepper
• 2 large portabella mushrooms,
each 5 to 6 inches in diameter
• 1 tbsp finely chopped fresh
Italian parsley
For garnish
• Cilantro leaves, optional
• Roasted red pepper, optional
1. Place the steak on hot grill, and grill for 3 to 4 minutes on each side; rest loosely covered with aluminium foil in a warm place.
2. In a small bowl, whisk the marinade ingredients. Wipe the mushrooms clean with a damp cloth or paper towel. Remove and discard the stems.
3. With a teaspoon, carefully scrape out and discard the black gills from the mushroom caps. Place the mushrooms, cap sides up, on a rimmed plate and brush them with the marinade. Turn the mushrooms
over and brush again.
4. If you are intending to execute this recipe on the grill then prepare the grill for direct cooking over
medium heat.
5. In a small bowl combine the croutons with the parsley. Grill the mushrooms, gill sides down, over direct medium heat, with the lid closed, until the mushrooms begin to soften, 4 to 6 minutes.
6. Brush the cap sides with some of the remaining marinade from the plate, turn them over, add ¼ cup of the cheese on top of each mushroom. Close the lid and cook until tender when pierced with a knife.
7. Remove from the grill. Distribute evenly the combined croutons and parsley over the mushrooms. Salt and pepper to taste slice the rested rib eye steaks and serve immediately with the mushrooms.