RED LENTIL AND SWEET POTATO SOUP
Serves 4-6 | Preparation 20 mins/cooking 45 mins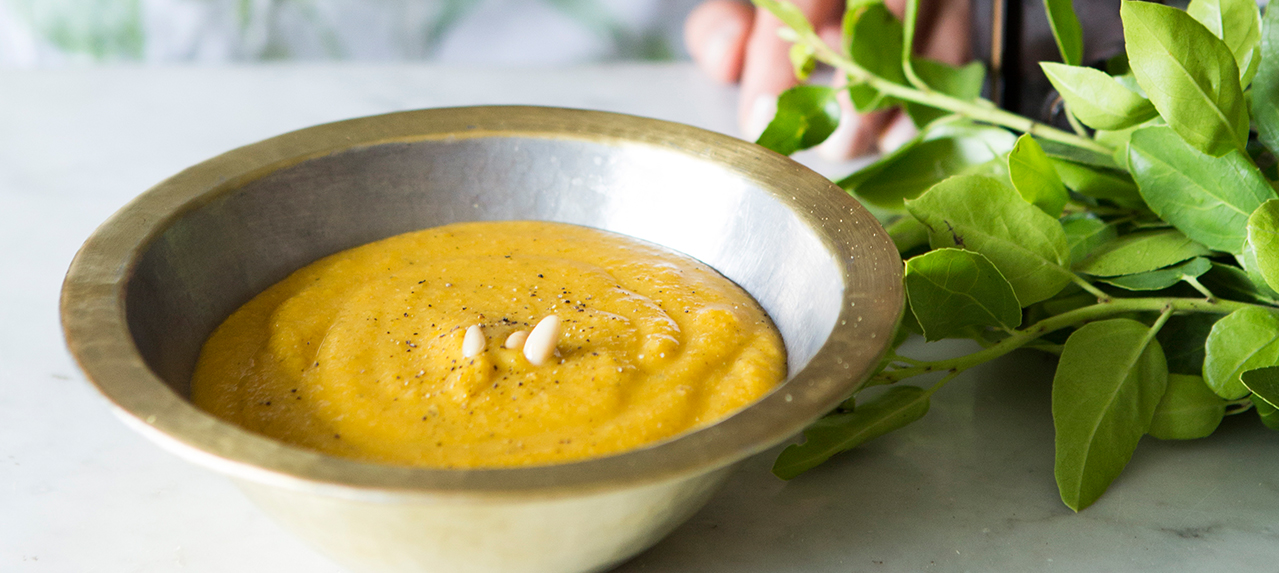 • 3 tbsp vegetable oil
• 1 onion, finely chopped
• 2 garlic cloves, crushed
• 2 carrots, peeled and coarsely chopped
• 1 Granny Smith apple, cored, peeled and coarsely chopped
• 10g fresh ginger, grated
• 1 sweet potato, peeled and coarsely chopped
• 2 sprigs wild thyme, stems removed
• ¼ bunch coriander, coarsely chopped
• 250g red lentils, rinsed and drained
• 1L vegetable stock
• Juice of 1 lemon
• Salt and freshly ground black pepper, to taste
To serve
• 50g pine nuts
1. Heat the vegetable oil in a large pot over high heat. Lower the heat to medium and add the onion, garlic, carrots, apple and ginger. Sauté for 5 to 10 minutes, stirring occasionally.
2. Add the sweet potato, thyme, coriander, lentils and stock. Season with salt and pepper. Bring to the boil, lower the heat, cover and simmer until the vegetables are tender, about 30 minutes.
3. Process the soup until smooth, using a hand blender. Add a little more stock if the soup is too thick. Stir in the lemon juice, and season with salt and pepper.
4. Heat a small frying pan over medium heat for 1 or 2 minutes. Once the pan is hot, add the pine nuts and reduce the heat to low. Shake the pan continuously until the nuts begin to brown, about 1 or 2 minutes.
5. Remove the nuts from the pan immediately – they will burn very quickly – and set them aside. To serve, ladle the soup into bowls and top with the toasted pine nuts.