Serves 6 | Preparation 15 mins Soaking time 2 hrs Cooking 15 mins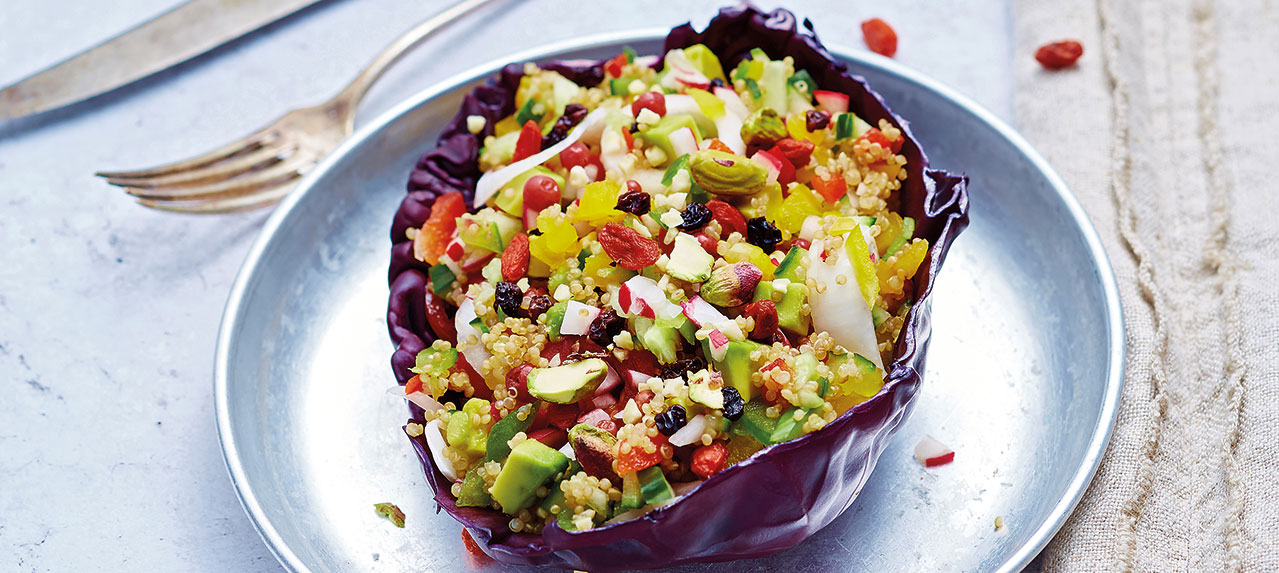 400g quinoa
6 red cabbage leaves
1 bunch radishes
3 peppers (green, yellow and red)
4 cucumbers
15 cherry tomatoes
1 green onion
1 avocado
1 handful of raisins
1 handful of goji berries
1 handful of crushed almonds
1 handful of crushed pistachios
2 handfuls of pomegranate arils
4 tbsp olive oil
2 tbsp apple cider vinegar
6 pinches of Himalayan salt
1. Soak the quinoa for 2 hours in water, then rinse and drain.
2. Cook for 15 minutes in 600ml of water. Let cool and drain.
3. Finely chop radishes, peppers and cucumbers. Cut the tomatoes and onion into slices, and the avocado into small cubes.
4. In a salad bowl, mix with quinoa, raisins, goji berries, almonds, pistachios, pomegranate arils, olive oil, vinegar and salt.
5. Spread the salad in the cabbage leaves and enjoy.