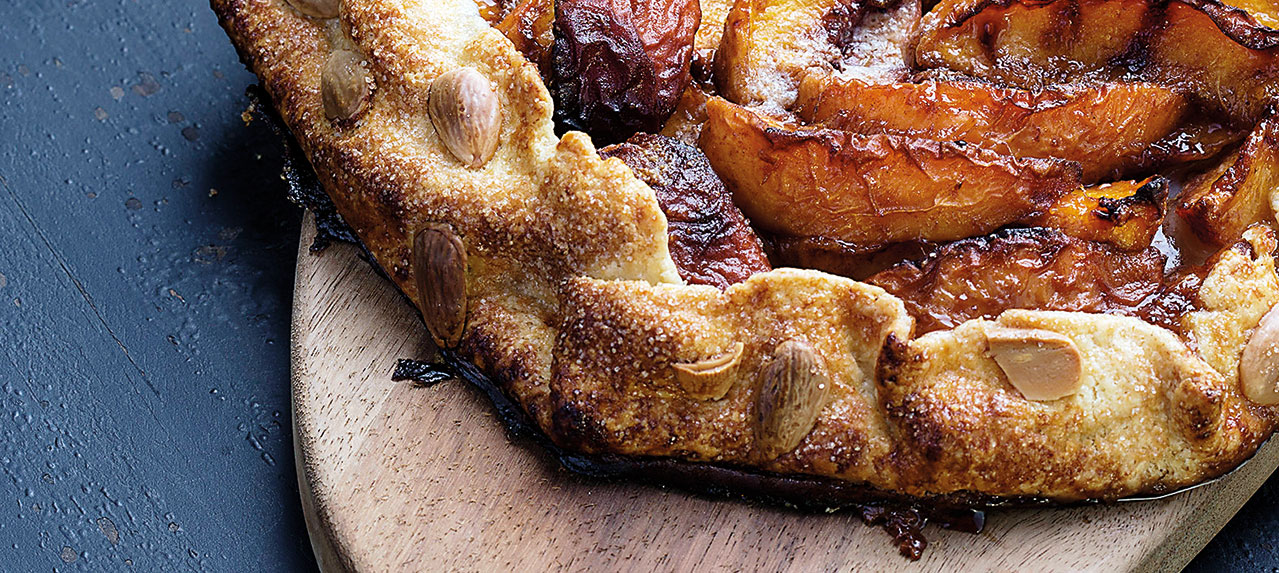 1 egg beaten with 1 tsp milk, for egg wash
1 tbsp raw sugar
¼ cup sliced almonds
Filling
4 large ripe yellow nectarines or peaches,
pitted and sliced
1 tsp fresh lemon juice
Pinch of salt
3 tbsp brown sugar
¾ tsp cinnamon
½ tsp vanilla extract
1 tbsp unsalted butter, cut into small pieces
Foolproof pie crust
1 ¼ cups all-purpose flour
½ tbsp sugar
¼ tsp salt
110g unsalted butter, cut into small cubes
and chilled
50 ml iced water
1. Combine the peaches, lemon juice, salt, brown sugar, cinnamon and vanilla. Place in the middle of a rolled galette dough, leaving a 5cm border.
2. Sprinkle the small butter cubes on top of the peaches. Fold up the edges of the galette dough to partially cover fruit. Freeze the tray with the galette until dough is firm, about 30 minutes.
3. Meanwhile, preheat the oven to 220ºC.
4. Remove the galette from the freezer. Brush the exposed edge of the pastry with the egg wash. Sprinkle the exposed edge with sugar and sliced almonds. Bake galette for 30 minutes. Reduce heat to 180ºC and bake until pastry is golden and juices are bubbling, about 30 minutes more. Let cool completely, about 2 hours. Serve warm or at room temperature.
For the crust
1. In a food processor, mix the flour, sugar, and salt. Add the cold butter and mix until the butter is cut into small pea-size pieces. Add the ice water all at once to the flour and butter.
2. Mix the dough until it begins to come together, do not over mix it.
3. With your hands, shape the dough into one disk. Wrap the disk in plastic and refrigerate for at least 1 hour.