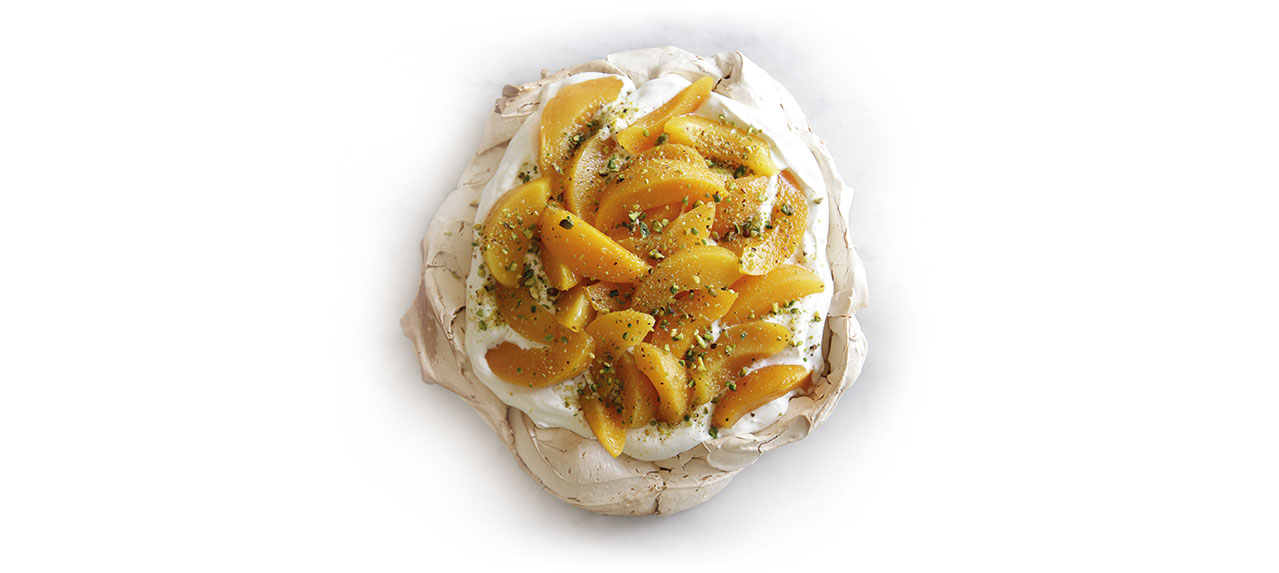 For the meringue
110g caster sugar
60g light brown muscovado sugar
3 egg whites, at room temperature
½ tsp vanilla extract
1 tsp white wine vinegar
For the orange blossom cream
250ml heavy cream
1 tbsp icing sugar
1 tsp orange blossom water
For the poached peaches
2 peaches, peeled, stoned and sliced
300g caster sugar
To serve
• 20g pistachios, coarsely chopped
1. Preheat the oven to 160°C. Line a baking tray with parchment paper.
2. Combine the two sugars in a small bowl.
3. Whisk the egg whites using an electric mixer until soft peaks form. While the motor is still running, gradually add the combined sugars, 1 tbsp at a time, whisking after each addition until stiff peaks have formed.
4. Whisk in the vanilla and vinegar until combined.
5. Spoon the meringue mixture onto the prepared tray, forming a 20cm circle.
6. Use the back of a tablespoon to spread the mixture out slightly and then make a slight well in the center. Bake for 60 minutes. Turn off the oven and place a wooden spoon keeping the oven door slightly open to allow the meringue to cool completely.
7. For the orange blossom cream, whisk the heavy cream, icing sugar and orange blossom water in a medium bowl using an electric mixer until medium peaks form.
8. Set aside in a cool place until ready to assemble.
9. For the poached peaches, bring the peaches, sugar and 150ml of water to a boil over medium heat. Lower the heat and simmer for 20 minutes or until the peaches are tender.
10. Remove the peaches with a slotted spoon and set aside to cool.
11. To assemble the pavlova, spread the cream in the hollow center of the meringue and top with the poached peaches. Sprinkle with pistachios.