PASSION FRUIT RASPBERRY ICED TART
Serves 10 | Prep/cooking 1 hr 30 mins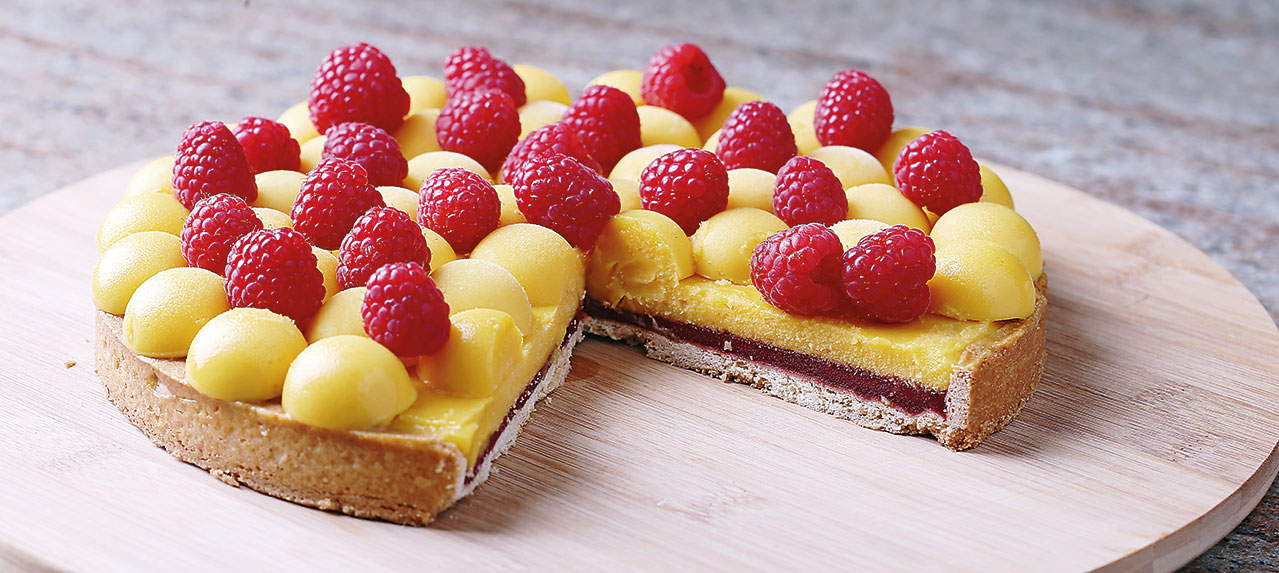 Tart Dough
140g unsalted butter
75g icing sugar
250g flour
1 egg
One pinch of salt
Coulis
120 purée passion
20g sugar
2 gelatin sheets
Sorbet Passion
250g passion fruit purée
55g sugar
55g water
1. For the dough, cream the butter at room temperature (the butter shouldn't be cold). Add the icing sugar into the butter, and a pinch of salt. Incorporate the egg into the butter.
2. Let the dough rest for half an hour in the fridge.
3. Take out the dough, roll it out into a thickness of 2 to 3cm. Put the dough over a 9 inch tart pan and pinch or cup the borders with your fingers, in order to have straight angles. Trim the borders of the tart shell.
4. Prick the dough with a fork and bake it at a temperature of 170°C for 25 minutes until its golden brown.
5. For the coulis, add the sugar to the passion fruit purée in a pan and let them boil for a bit.
6. In a bowl of cold water put the gelatin leaves. As soon as the purée starts to boil, take the mix out of the over and add the gelatin sheets. Mix them for a bit to make sure they are melted.
7. For the sorbet, boil the sugar and the water in a pan.
8. Add them to the passion fruit purée it should be at a room temperature. Then add the mix into
an ice cream machine.
9. For assembly, add a layer of the coulis on top of the tart shell, put it into the freezer and let it chill until it becomes solid.
10. Then take out your passion fruit sorbet and spread it over the raspberry coulis.
11. Leave your tart in the freezer, taking it out 5 minutes before serving.