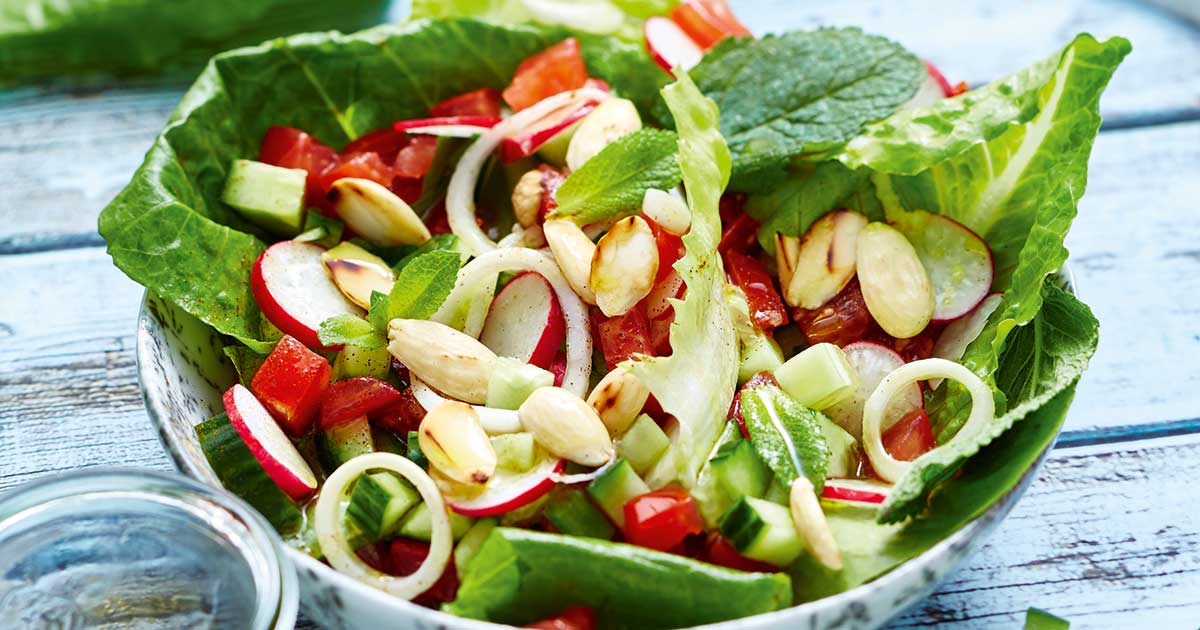 1 Romaine lettuce cut into pieces
1 bunch Mint
2 Tomatoes cut into pieces
2 Cucumbers cut into pieces
5 Radishes cut into slices
1 handful Flaked almonds
2 sliced ​​Green onions
2 cloves of garlic, pressed
1 tsp. Sumac powder
5 tsp. Olive oil
3 tbsp Cider vinegar
3 tbsp Himalayan salt
1. In a bowl, prepare the sauce by mixing all the sauce ingredients.
2. Put lettuce, mint leaves, tomatoes, cucumbers and radishes in a salad bowl.
3. Toast the almonds in a pan for 2min, being careful not to burn them.
4. Pour the sauce into the salad bowl, add the almonds, mix and serve immediately.
Tips
Cucumber rids your system clean of toxins thanks to its high water content (96%), it is recommended in case of intestinal problems and Colic. Consumed on an empty stomach, its juice has detoxifying and appetizing properties, and its pulp leaves you with fresh breath. It helps beautify the skin.