ONLINE DELIVERY FOOD & BEVERAGES
 Today more than ever we invite you to harness the power of technology to fill your fridge without leaving home.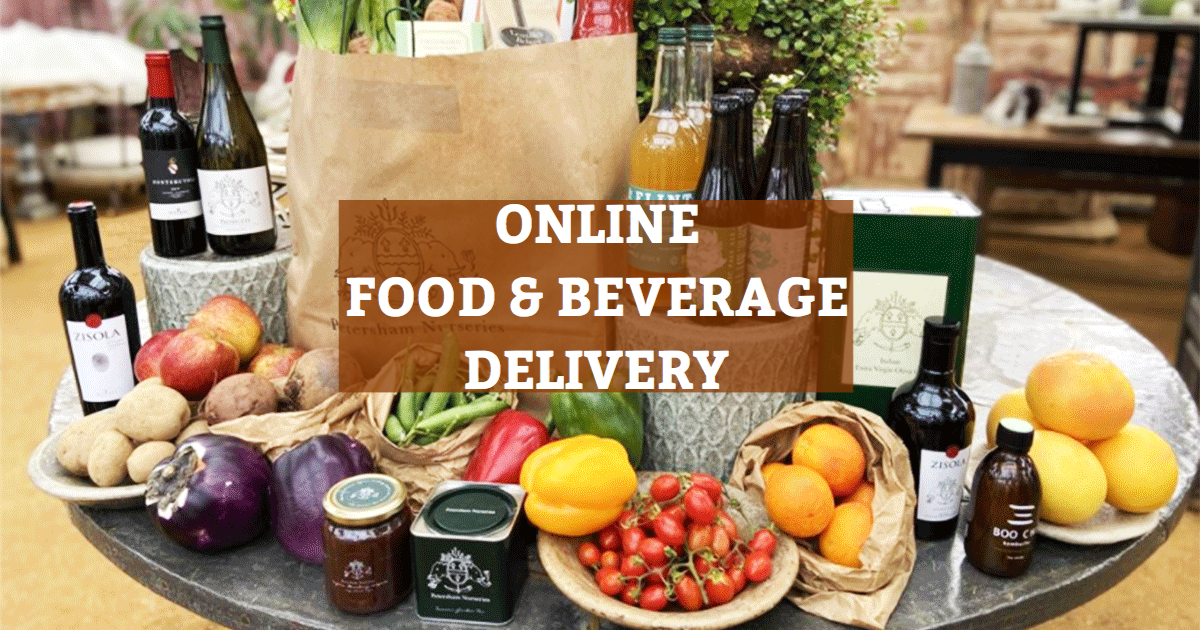 ALMAKHAZEN.ME
Delivery from 42 COOP stores across Lebanon.
CARREFOUR LEBANON
Free home delivery when you spend over 50,000 LBP
carrefourlebanon.com
CHTERE LEBNENE
Sells and promotes exclusively Lebanese products with competitive prices.


  ChtereLebnene


  ChtereLebnene
INSTASHOP LEBANON
Delivery from Maison M, COOP, La Valeur, Gio Delicatesse
MARQET
An upscale market in Koreitem that delivers premium products around Lebanon.
MARKIT WORLD
An application that delivers goods to your doorstep for free (Beirut only).
MY TROLLEY SUPERMARKET
More than 5,000 products including Deli, fruits and vegetables etc… covering Greater Beirut Area and Metn region.
Delivery charge of 2,000 LBP (minimum order 10,000 LBP).
Payment by cash, credit card and online.


MyTrolley


My_Trolley
NOKNOK – GROCERIES MADE FAST
Instant stock updates and real-time tracking.


NoknokGroceries
SPINNEYS LEBANON
Free home delivery when you spent over 100.000 LBP.
TOTERS
Pay by cash or credit card, and track your order in real time.


  Toters_Delivery
ACHRAFIEH SUPERMARKET
Delivery charge of 3.000 LBP.
01 200388, 01 329920
WhatsApp 71 630365, 03 947620
GRAB'N GO
Delivery charge of 1,500 LBP (minimum order 10,000 LBP)
01 218999


Grabn_Go
grabngo.me
HIBOU
Free delivery when you spend over 5, 000 LBP
Clemenceau 01 736 656/7
AUST 01 339 305/6
Tabaris 01 339404/5
Sodeco 01 427 502/3
Mar Mikhael 01 0561 808/9


Hibou24SevenMart
hiboumart.com
MAISON M
Home delivery on orders above 40, 000 LBP
Dora 01 265265
Antelias 04 444260
maisonm.me
MARCHE URBAIN
Free delivery on order above 30,000 LBP
70 488493
With  Instashop


MarcheUrbain
marcheurbainpds.com
MASSOUD SUPERMARKET
Free home delivery on all orders.
Fanar, 01 900375
WhatsApp 03 479950


 Massoud Supermarket
MIDTOWN MARKET
Fresh grocery shop. You can pass and you can order by phone.
01 447744, 70 361144 (7 am till 5 pm).


midtownmarketlb
O&C THE FRESH MARKET
Fresh products – meat, fish, fruits, vegetables, cold cuts, dairy products, and pastries…
04 416516


 OandCtheFreshMarket
Octhefreshmarket.com
SALLEH
No charge for deliveries within Beirut, and no minimum order.
Aisha Bakkar 01 738383- 01 739139
WhatsApp 81 818777


 Salleh


  SallehLeb
On Zomato too
STOP & SHOP
Delivering within the area.
Naccache, Antelias 04 444225/6
Adonis 09 217241/934


 StopandShop.lb


 Stopandshopkay
STORIUM SALIBA
Free delivery, payment by cash or credit card.
76 367368
storium.com.lb
 LOCAL FARMERS MARKET
Fresh, seasonal products, organic, permaculture fruits, vegetables, herbs, grains, "mouneh", dairy products, eggs and more.
Pay by cash or credit card on delivery (ask for the POS machine).
Delivery fees:  1.500 LBP within Mount Lebanon and  5.000 LBP elsewhere.
81 681616, 09 220884

naturebymarcbeyrouthy
MADE BY NATURE 
Premium veggies selected according to best agricultural practices and seasonality. Made by Nature teamed up with organic, permaculture, hydroponic and small farmers as well as cooperatives. Preserving the freshness and quality of fruits and vegetables the operation team applies strict quality control rules and all the products are delivered by Lebanese university students (to serve Lebanese community).
81 684231
MINT BASIL MARKET

Online selection of healthy & natural products delivered anywhere in Lebanon.
WhatsApp 76 996048

MintBasilMarket
WINE & SPIRITS ONLINE STORES
209 LEBANESE WINE
209 is the only online marketplace where you will be able to find a selection of almost every available Lebanese wine.
81 209111


209LebaneseWine
209lebanesewine.com
FIDEL
Fidel will be delivering daily from 10am to 5pm.
04 444976, 76 978405


 FIDELCIGARS


fidelcigars
LES CAVES DE TAILLEVENT
Selection of French & Italian wines with discounts up to 55%.
71 525256 , 70 950726 (10 am till 5 pm).
lesCavesdeTaillevent-Delivery Menu 
lescavesdetaillevent.com
THE MALT GALLERY
Selection of wines & spirits bottles from all over the world.
71 955911 , 76 831707


 TheMaltGallery
themaltgallery.com
VINTAGE WINE SPIRIT
Selection of 500+ wine & spirits bottles at the best prices.
WhatsApp 03 222003
vintagewinespirits.com/collections/the-wines-spirits-fair
vintagewinespirits.com