MOUHAMMARA GOAT CHEESE EGGPLANT ROLL
Serves 1 | Prep/Cooking 45 mins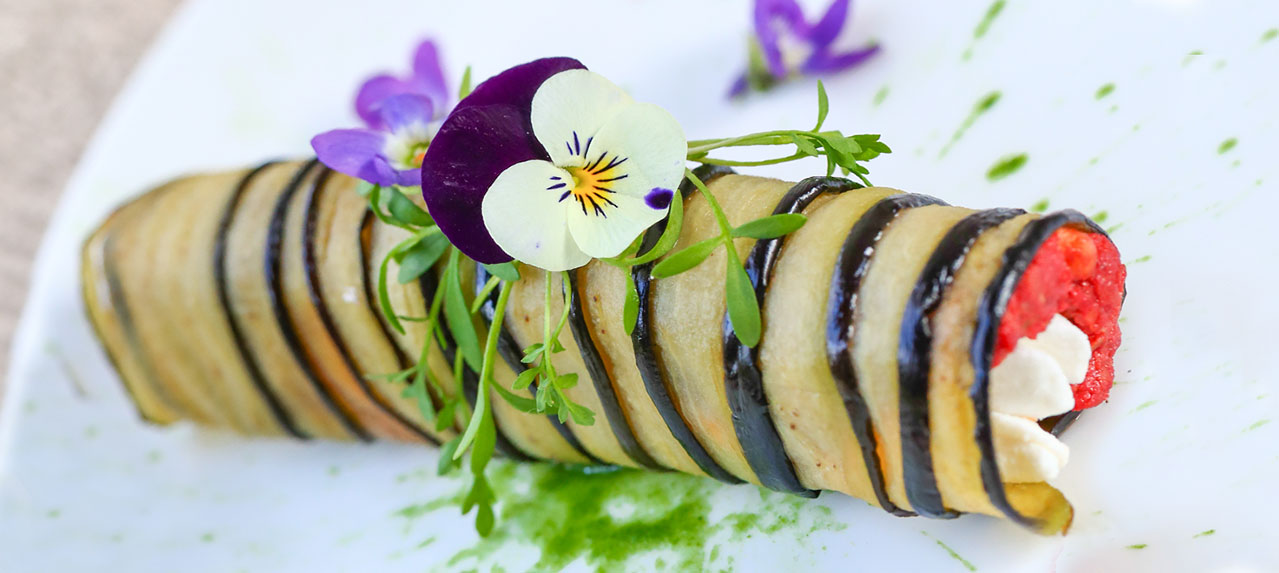 2 Eggplants (small or Italian, not the big of the moutabbal)
250g Goat cheese
3 bunches Basil
1 box pre washed baby Arugula
100g Parmesan
1 Garlic clove
¼ cup pine nuts
Olive oil
Salt
Pepper
Muhammara:
1 cup Walnuts
1 cup Kaak (breadcrumbs)
1 tsp Harissa
1 tsp Cumin
2 tsp lemon juice
3 tsp pomegranate molasses
1 tsp sugar
1. Slice the eggplant using a mandolin, sprinkle with olive oil, salt and pepper and bake in the oven at 350F for about 15 minutes.
2. Mix the goat cheese with 3 tbsp chopped basil and a little bit of black pepper (DO NOT salt).
3. Arugula pesto:
In a blender, place the garlic clove, olive oil, salt and pepper and parmesan, blend until smooth, add in the basil and arugula and mix until blended, add some water if the mixture is too thick.
4. For the Muhammara:
Mix the bread crumbs (kaak) with the finely chopped walnuts and all the condiments and mix well until all ingredients are well combined.
Plating:
5. On a piece of plastic wrap, place eggplant slices side by side by going a little over each previous one every time to form one big piece of eggplant.
6. Fill with a little of the goat cheese mix and some of the Muhammara mix.
7. Roll like you would a maki roll and keep in the fridge to set for a few minutes.
8. Unwrap carefully, and serve with a side of arugula pesto