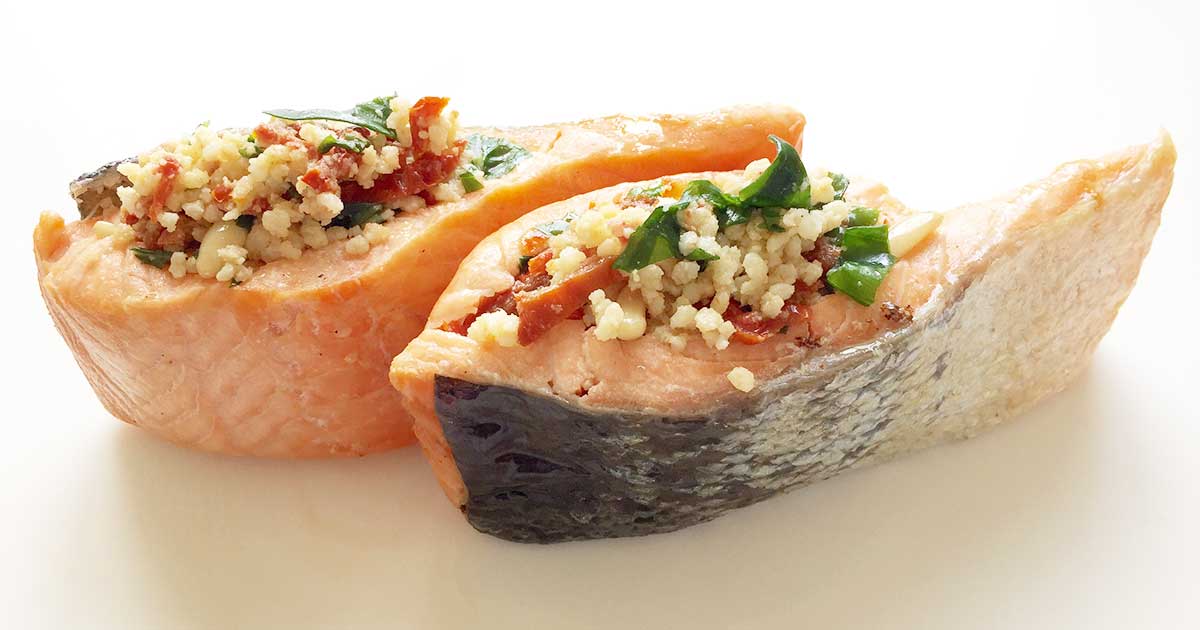 5 salmon fillets, 200g each
200g millet
250g fresh spinach
10 pieces of sundried tomatoes
Salt and white pepper
25g pine nuts
Dressing
1g oregano powder
50g fresh basil
30g olive oil
50g sliced olives
500g peeled tomatoes
1 small red onion
3 garlic cloves
1. Marinate the salmon fillet in a mix of olive oil, salt, and pepper.
2. Boil the millet over low fire for 12 to 15 minutes.
3. In a large skillet, heat a drizzle of oil over medium heat to cook the spinach with lemon zest and a pinch of salt and white pepper for 2 minutes stirring constantly.
4. Chop the sundried tomatoes into thin slices. Once boiled and cooled, mix the millet with the sundried tomatoes, cooked spinach and pine nuts.
5. Cut the salmon fillet horizontally in half and stuff them with the millet mix.
6. Sear the salmon in a hot skillet over a medium-high heat then transfer them straight to a hot oven.
7. Cook the salmon for 15 minutes at 180°C.
8. For the dressing, sauté thinly sliced red onions and garlic with a little olive oil over medium heat for about 3 minutes.
9. Add the blended peeled tomatoes, reduce the heat and simmer covered.
10. Flavor the sauce with oregano powder, fresh basil, salt, white pepper and slices olives.
11. Serve with the tomato sauce and fresh basil.