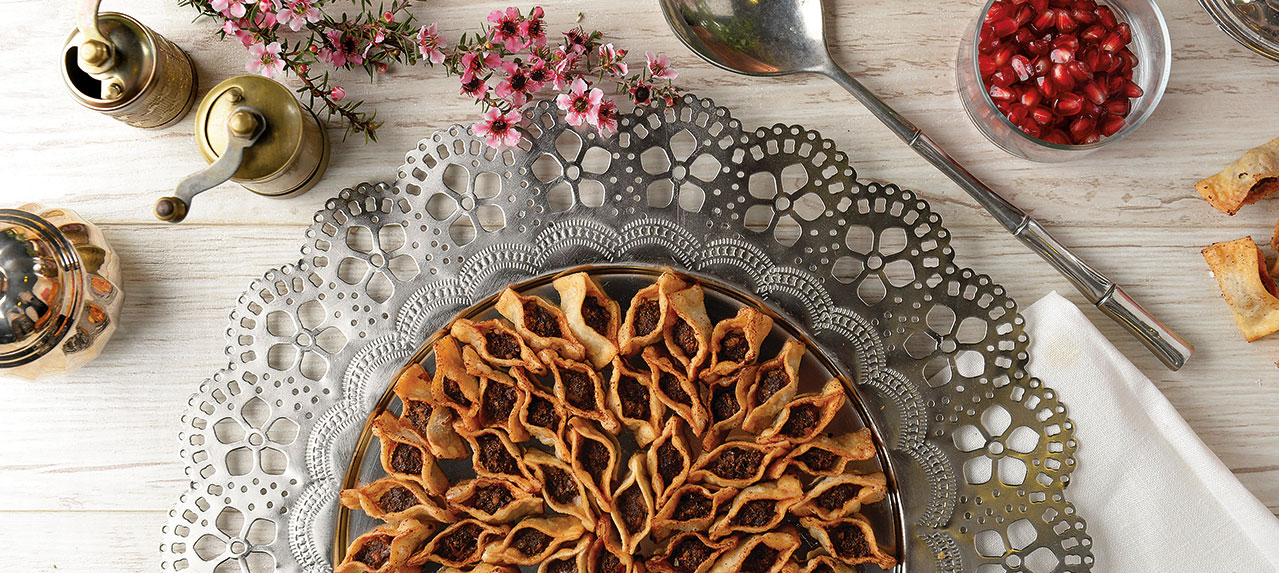 Lamb filling
500g ground lamb
180g finely diced onions
1 chopped garlic clove
2 full tbsp chopped parsley
2 tbsp sea salt
1 tbsp ground black pepper
Dough
3 cups flour
1 egg
2 tbsp melted butter
½ cup warm water
½ cup milk
½ tbsp salt
Tomato sauce
180g tomato paste
60g chopped tomatoes
4 tablespoons olive oil
1 cup water
1 tablespoon ground Aleppo pepper
1 clove garlic
Butter
Yogurt
Chili olive oil
Mix of dried herbs for extra flavor (sumac, thyme & mint)
1. Mix the lamb filling ingredients and place in the refrigerator.
2. Mix the dough ingredients and knead. Divide dough into two parts and cover with a towel; leave to rest for 40 minutes.
3. Using a rolling pin, roll out the dough parts to an even thickness of about 7mm.
4. Cut little squares into the rolled dough. Then place a meat portion at the center of each square, pinch the ends together leaving the meat exposed in the middle to create dumplings.Then, butter a tray and place the dumplings on it.
5. Bake for about 25 minutes at 190˚C, or until lightly browned.
6. Prepare the tomato sauce by heating the oil, adding crushed garlic and fresh tomatoes. Add the tomato paste over a low heat, stirring constantly. Add the Aleppo pepper at the end; then stir for a few more seconds and remove from heat. Add the water and whisk. Set aside and reheat just before serving.
7. Serve mante with tomato sauce, fresh yogurt, a little drizzle of chili olive oil and a sprinkle of dried herbs.