MALAYSIAN SEARED TUNA & RED QUINOA
BY LE GABARIT DIET CENTER
Serves 2 | Prep/cooking 45 mins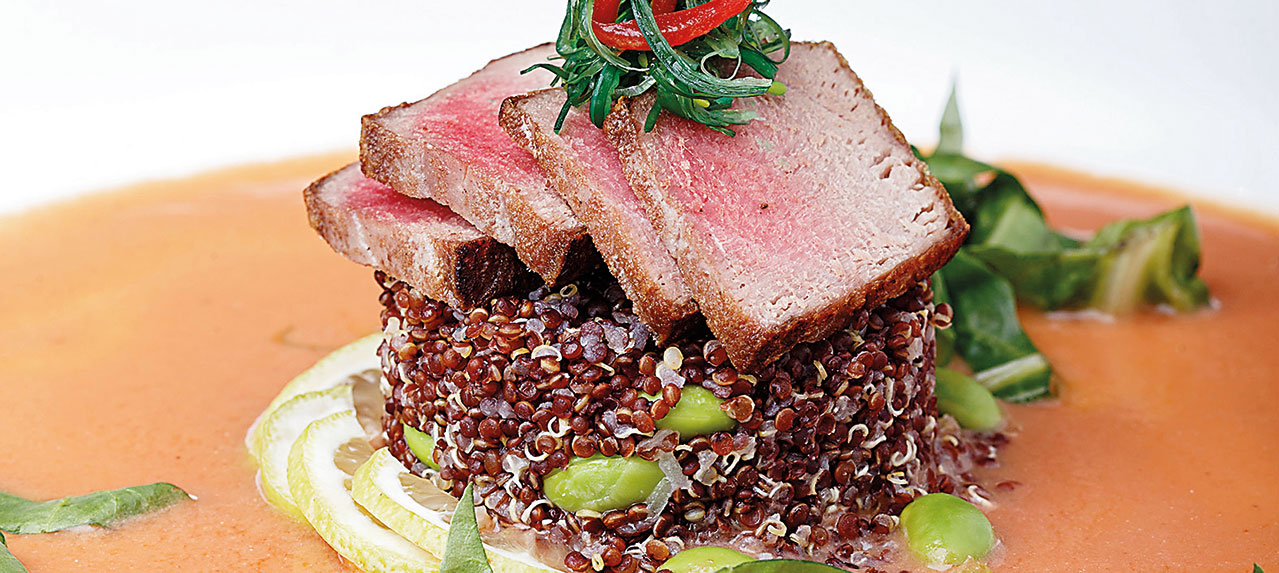 200g fresh tuna or frozen red tuna
½ tsp finely chopped dill
Zest of 1 orange
1½ tsp of olive oil
1 tsp fresh raspberry juice
½ cup red raw quinoa
½ cup edamame beans
½ finely chopped onion
1 tsp olive oil
¼ tsp sesame oil
Dash of lemon juice
Sauce
1 tbsp olive oil
1 tsp crushed red pepper flakes
Zest of 1 lemon
1 ½ tbsp minced garlic
½ cup of water
1 to 1 ½ tbsp curry powder
1 ¼ cups light coconut milk
½ tsp Himalayan sea salt or to taste
½ cup chopped fresh chard
1. Combine olive oil, raspberry juice, zest of one orange and dill in a casserole. Set aside with the tuna to marinate.
2. Place the quinoa in warm water for 20 to 25 minutes, then boil with 1 cup of water. Cover and cook for about 15 minutes.
3. In a medium heat frying pan, add olive oil, sesame oil, onions, and edamame beans. Add the red quinoa over the mixture and reduce it with lemon juice. Season with salt and pepper to taste.
4. Meanwhile, season tuna on both sides with salt and pepper.
5. Place it in a skillet over high heat, braise for 2 minutes on each side till seared.
6. Prepare the sauce in a casserole, add olive oil and garlic. Add the crushed red pepper flakes and the curry powder to extract the taste. Add the lemon zest and slowly pour in the light coconut milk. Season with Himalayan sea salt.
7. Remove from heat and add the chopped fresh chard.
8. Serve immediately with the seared tuna. Drizzle with balsamic reduction and scatter pine nuts on top.