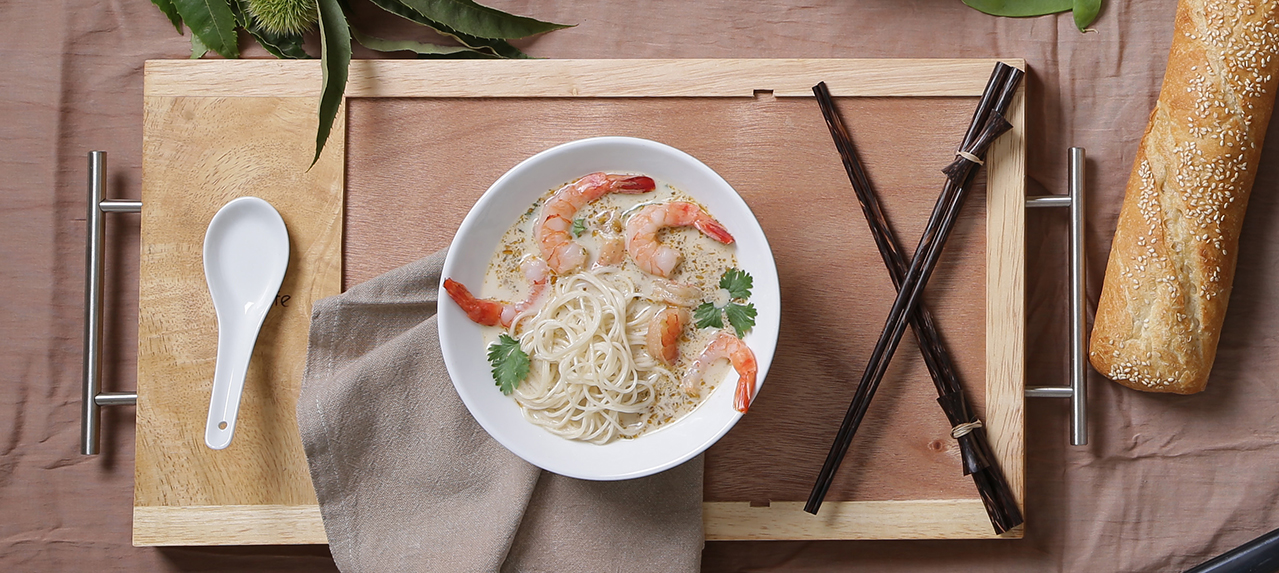 • 115g rice vermicelli (noodles)
• 1 tbsp vegetable oil
• 600ml fish stock
• 400ml coconut milk
• 2 tbsp Thai fish sauce
• ½ lime
• 16-24 cooked peeled prawns
• Salt and cayenne pepper to taste
• 4 tbsp chopped fresh coriander
For the spicy paste
• 2 lemon grass stalks, finely chopped
• 2 fresh red chilies, seeded and chopped
• 1 small piece fresh root ginger, peeled and sliced
• ½ tsp dried shrimp paste
• 2 garlic cloves, chopped
• ½ tsp ground turmeric
• 2 tbsp tamarind paste
1. Cook the noodles in a large pan of salted, boiling water, according to the packet instructions. Tip into a large strainer, then rinse under cold water and drain.
2. To make the spicy paste, place all the prepared ingredients in a food processor and process until a smooth paste is formed.
3. Heat the vegetable oil in a large pan, add the spicy paste and cook over a medium heat, stirring constantly, for a few moments to release all the flavors, but be careful not to let it burn. Add the fish stock and coconut milk and bring to the boil. Stir in the fish sauce, and then simmer for 5 minutes. Season with salt and cayenne, adding a squeeze of lime.
4. Add the prawns and heat through for a few seconds. Divide the noodles among 2 or 3 soup plates. Pour over the soup, making sure that each portion includes an equal number of prawns. Garnish with coriander and serve hot.