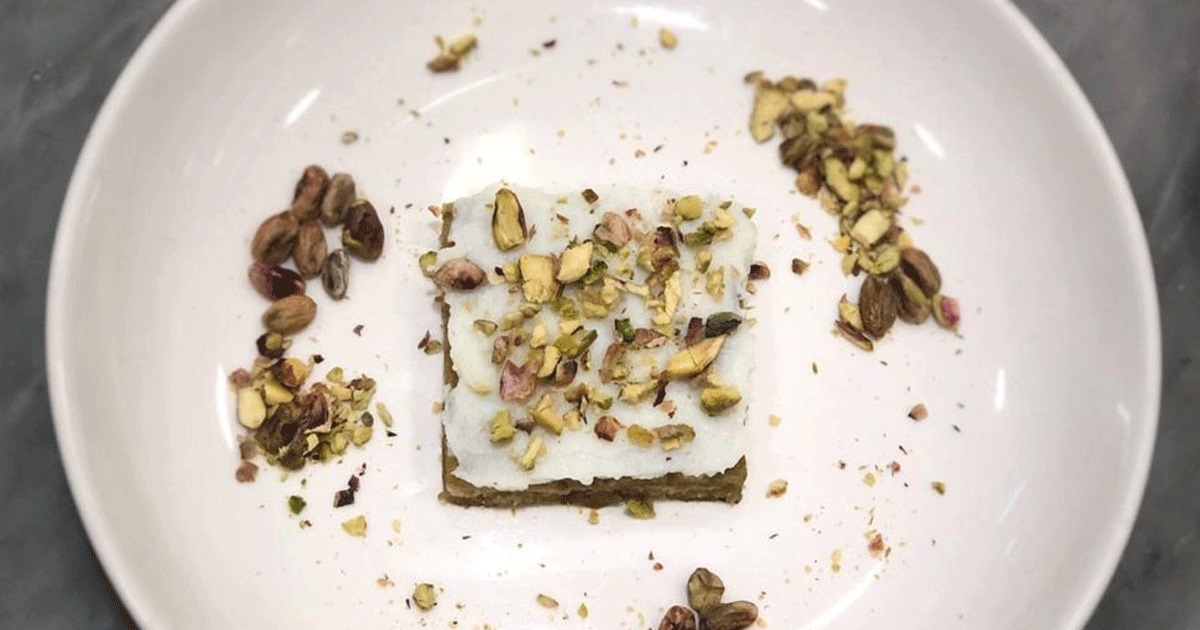 2 cups Osmalieh vermicelli
1 cup raw pistachios
1 cup sugar substitute
2 tbsp rosewater
2 tbsp low fat butter
2 tbsp sugar syrup (made of sugar substitute)
Cream (Ashta)
4 cups water
½ cup fat free milk powder
¾ cup rice powder
¼ cup sugar substitute
½ cup corn flour
1 tbsp rosewater
1 tbsp blossom water
Combine the vermicelli and low fat butter in a saucepan and roast them until the vermicelli is slightly golden.
Once ready, put them in a medium bowl and add the pistachios, sugar,  rose water and sugar syrup.
Mix everything well using an electrical blender until a smooth paste is formed.
Press the mixture evenly over the base of a medium platter or tray.
For the cream, combine the milk with the sugar and 2 cups of the water in a saucepan and bring to a simmer.
Combine the remaining water with the corn flour  and rice powder in a small bowl and stir until smooth.
Add the corn flour mixture to the simmering mixture and cook for about 4 mins, whisking constantly to prevent lumps forming, until simmering and very thick.
Remove from the heat and cool, whisking occasionally so mixture remains smooth. Stir in the rosewater and blossom water.
Spoon the cream over the prepared pistachio base, scatter over some crushed pistachios and serve.