With summer in full swing, you can feel yourself itching to throw that first dinner party on your terrace or in your garden. Enter Ghada Blanco-Chkaiban, the low-key woman behind many high-profile weddings and the first name to revolutionize the wedding planning industry in the Middle East, to give us a few tips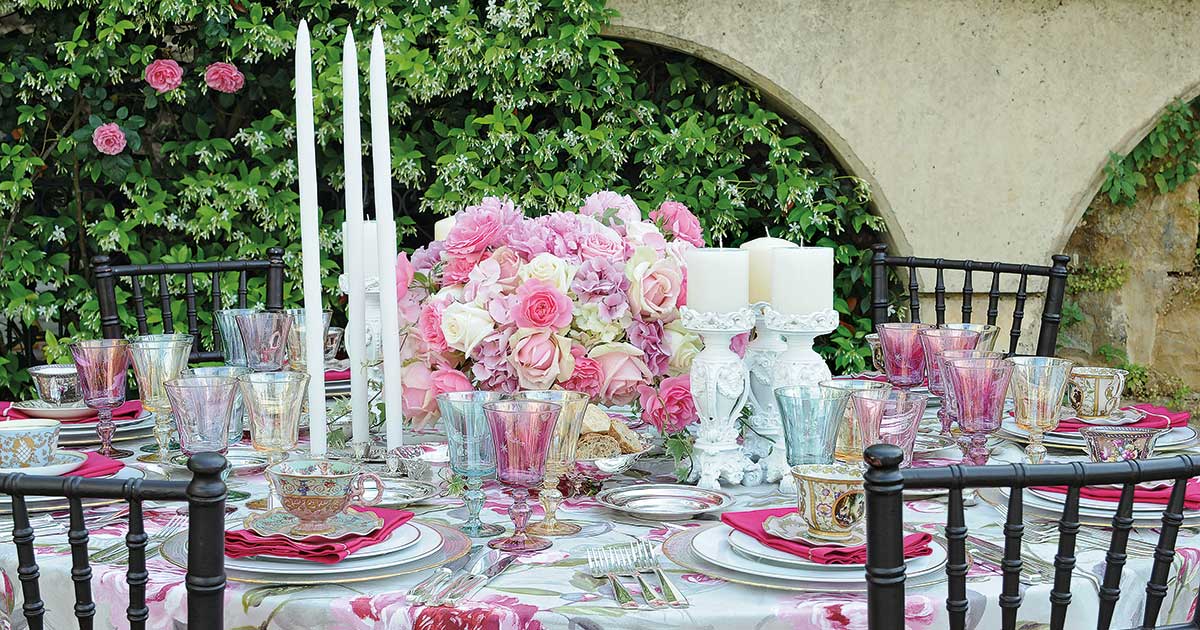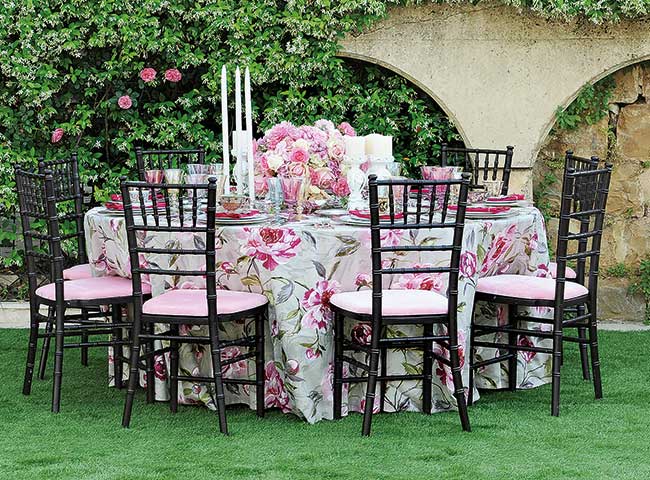 COURSE MEAL
---
The entrée served in teacups. Two dishes sitting on a show-plate for first and second course. The main plate will be served warm from the kitchen (have in your kitchen one extra set of plates ready for the main meal).
MIX AND MATCHED
---
Painted teacups from incomplete sets can be brought together with one unifying item like a painted floral tablecloth or a flower centerpiece that matches the same tonalities.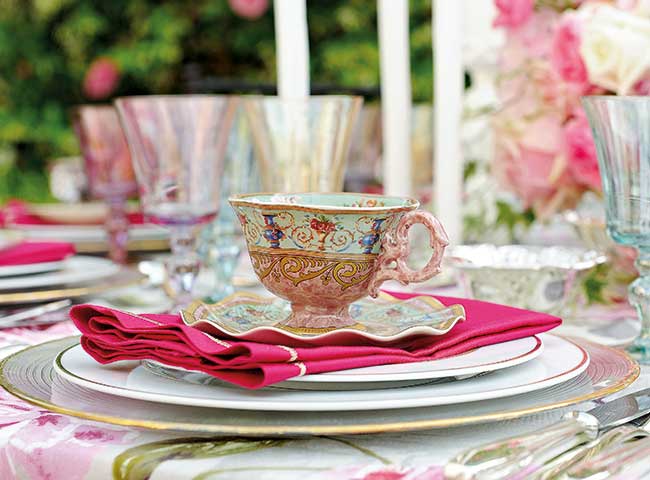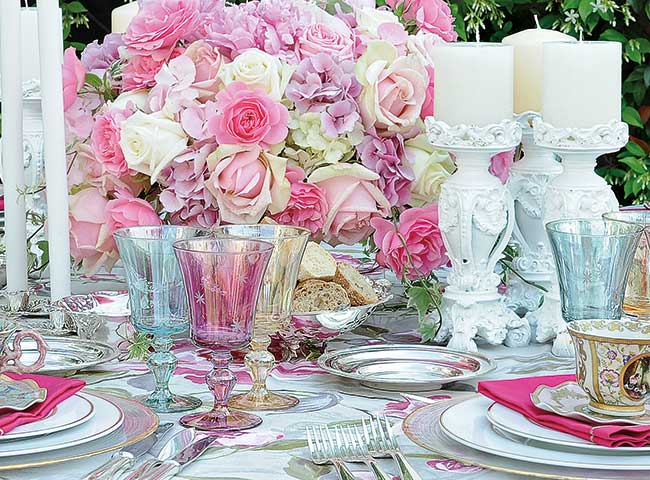 SHOCKING FACTOR
---
Don't be afraid to place a shocking factor like colorful glasses or stark white candelabras.
TOO BEAUTIFUL TO COVER
---
All menu items to be served from the kitchen but cutlery and a copy of the set menu will give guests a peak of what's to come. Have the three plates for your 3-course meal (entrée, main and dessert) ready in your kitchen.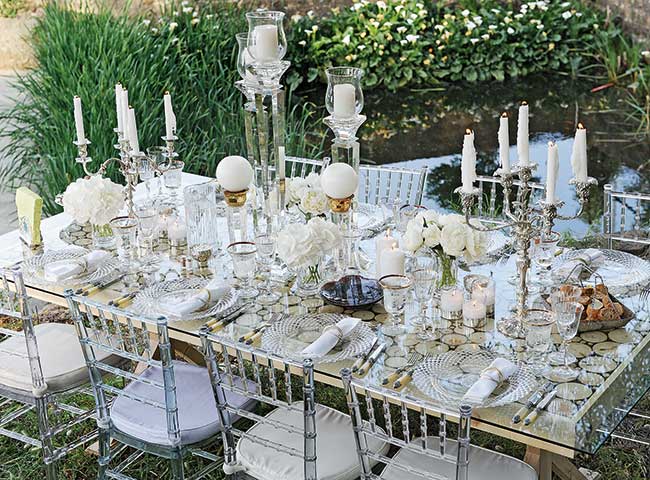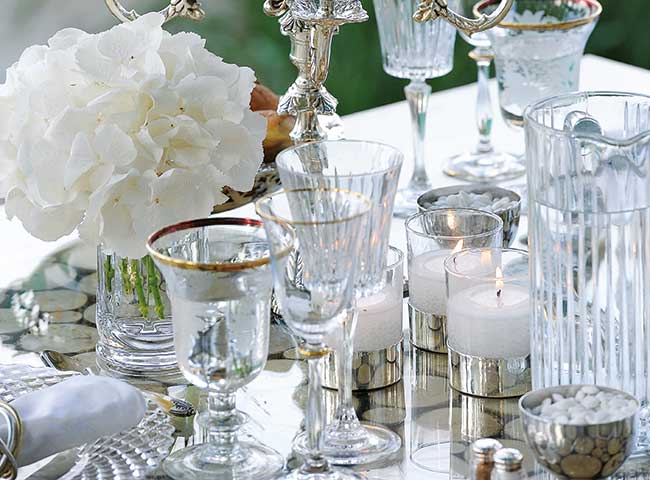 THREE DIFFERENT SETS
---
It's okay if you have 3 different sets of crystal glasses. A carved crystal style, an embossed shaded one with a rose gold rim and a polished one can get along just fine.
CENTERPIECES
---
When using crystal centerpieces, it's okay to go high because the vision isn't so affected.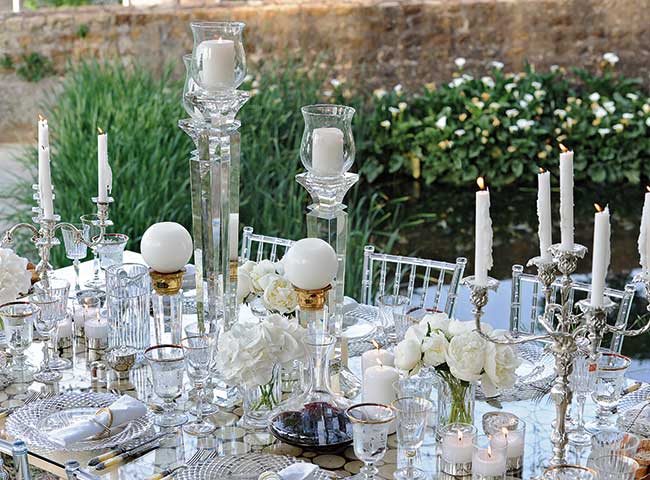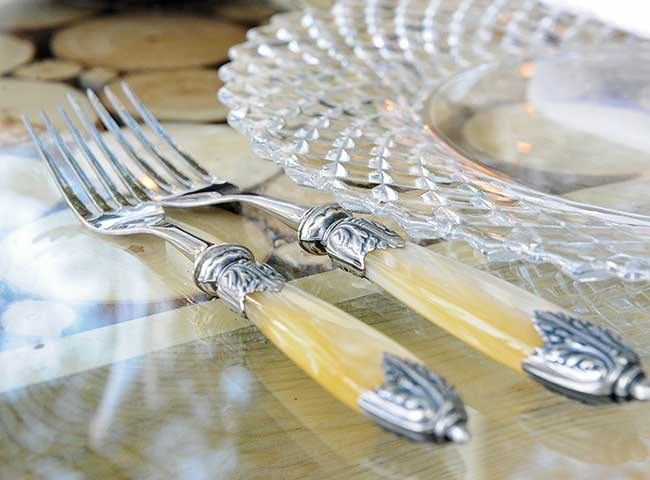 CUTLERY
---
Using antique cutlery could ease up the over polished modern crystal ware effect and make your table a more harmonious unintimidating affair.
NECESSARY INVESTMENT
Buy or rent one or two different chair sets and zip up cushions in various colors.
BEWARE
Don't use a dark green at night, as in improper lighting it could seem black. Always consider the type of light that you have.
BETWEEN SEASONS
Always consider a backup canopy for surprise rain and keep throws ready for your guests in case the weather gets chilly.
NEVER UNDERESTIMATE
The effect beautifully folded napkins can give.
USE YOUR GARDEN OR TERRACE FLOWERS
A low floral arrangement doesn't break your line of vision.
ALWAYS KEEP IN MIND
How you can make your guests feel that something new is arriving.