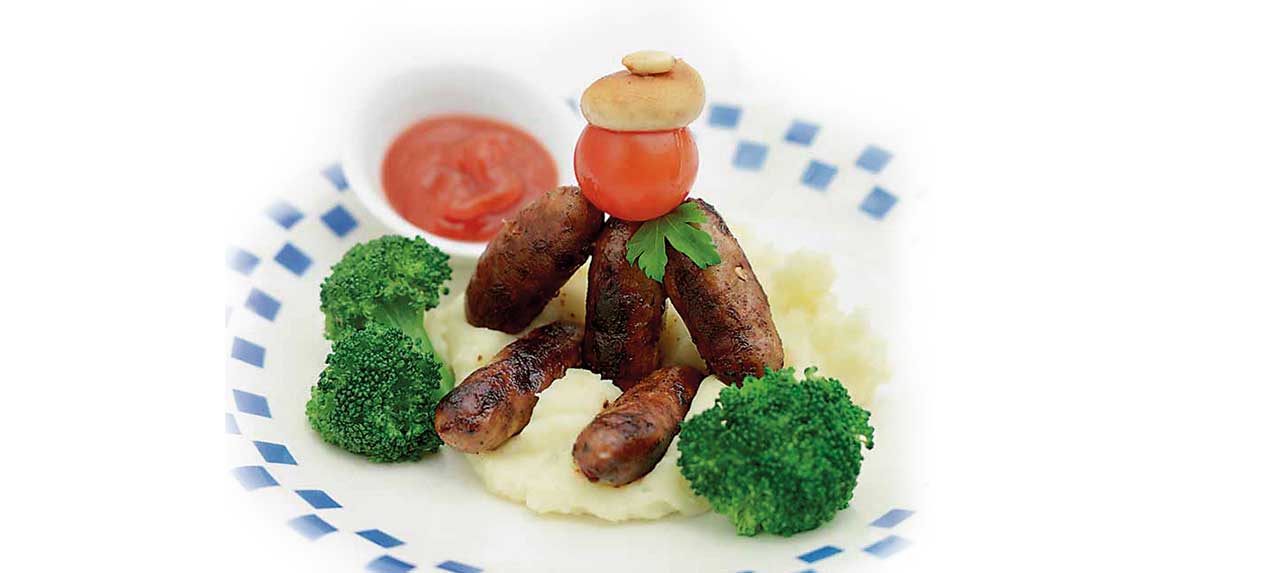 6 cocktail sticks or toothpicks
For the sausage men
10 sausages
A little light olive oil
2 cherry tomatoes
2 button mushrooms or the ends of a cucumber (for hats)
6 small pieces of broccoli
For the mash
340g floury potatoes
5 tbsp milk
2 tbsp butter
Salt, pepper and nutmeg
1. Heat a little olive oil in a non-stick frying pan. Prick the sausages and cook them for about 10 minutes, until they are nicely browned and crispy. Once cooked, keep warm.
2. While the sausages are cooking, peel and dice the potatoes, and cook them in boiling, salted water until they are soft. Drain thoroughly.
3. Place the milk and butter in the saucepan in which the potatoes were cooked and bring to the boil. Add the potatoes and cook for a minute.
4. Using a fork or potato masher, mash to a very smooth purée and season lightly. I believe that it is important to season children's food carefully and not to serve food that is bland. I use salt sparingly and also a little freshly ground black pepper and finely grated nutmeg, which will lend a very subtle flavor to the potato.
5. Lightly cook the broccoli in salted, boiling water.
6. To assemble the sausage men, you will need one sausage as a body to which you attach two sausages to one end for legs and two sausages at the other end for arms, using the cocktail sticks.
7. For the head, use a tomato, onto which you can secure either a mushroom hat or a cucumber hat. Use another cocktail stick to attach the head and hat to the body.
8. To serve, put a mound of mashed potato onto a warmed plate and either sit or lay the sausage man on it, or you can stand him by propping him up against a high stack of mash. Decorate with 3 pieces of broccoli and serve immediately.
9. I usually accompany him with a tiny bowl of organic tomato ketchup.