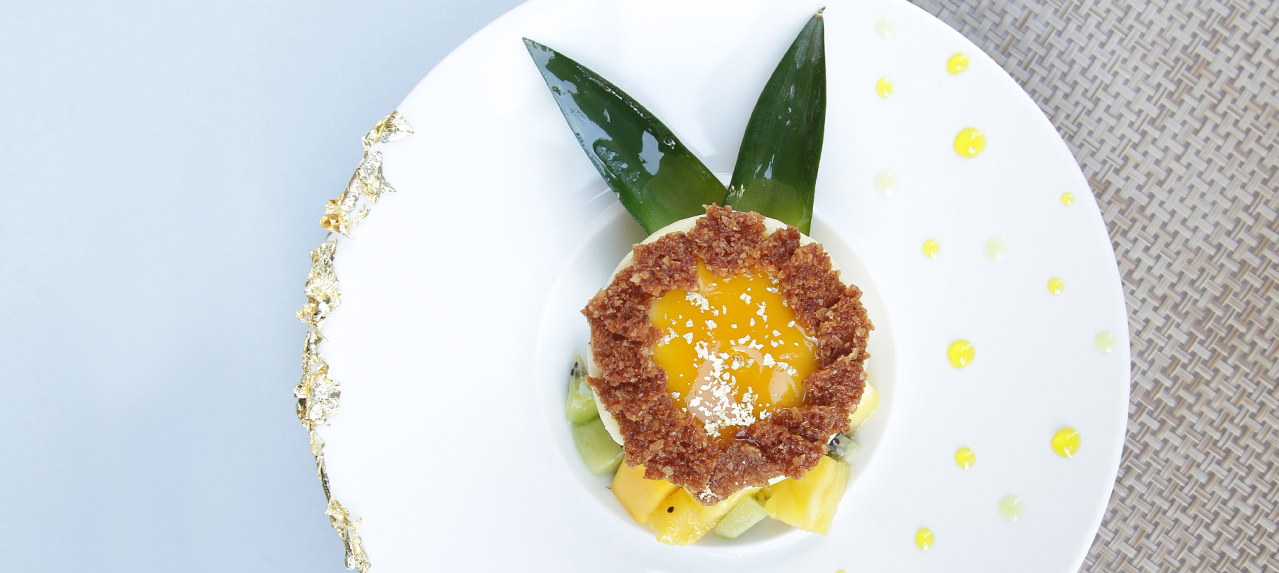 Coconut crust
• 120g sugar
• 130g butter
• 100g chopped almonds
• 60g coconut powder
• 30g flour
• 1g salt
Mousse vanille citron vert
• 185g pastry cream
• 7.5g gelatin
• 145g white chocolate
• 445g UHT milk
• 2 p lemon zest
• 0.5 gousse de vanilla (vanilla bean)
Cremeux exotique
• 133g eggs
• 120g sugar
• 80g passion fruit purée
• 40g puréed banana
• 30g lemon juice
• 3g gelatin
• 200g butter
Confit mangue
• 230g mango purée
• 60g sugar
• 5g pectine
• 5g lemon juice
• 0.5g lemon zest
1. For coconut crust, whisk the butter and the sugar together. Pour the almond and coconut into the flour and salt. Mix all of the ingredients for 5 minutes. Spread between two silpat.
2. For confit mangue, heat the purée. Add the zest, the pectin and the sugar. Boil together.
3. For cremeux exotique, heat the purées together. Add the sugar and the eggs. Boil, then let it cool down to 40°C. Add the butter, mix with a blender and pour into demie sphere. Place in the freezer.
4. For mousse, infuse the lemon zest and the vanilla with the UHT for 24 hours. Heat the pastry cream and then add the gelatin. Add the melted chocolate.
5. To assemble, mix together and pour in the whisked cream. Pipe 40g of mousse into a demie sphere. Insert the cremeux exotique. Put it in the freezer. Coat with the white chocolate and cocoa butter. Garnish with sauce mangue and the coconut crust.