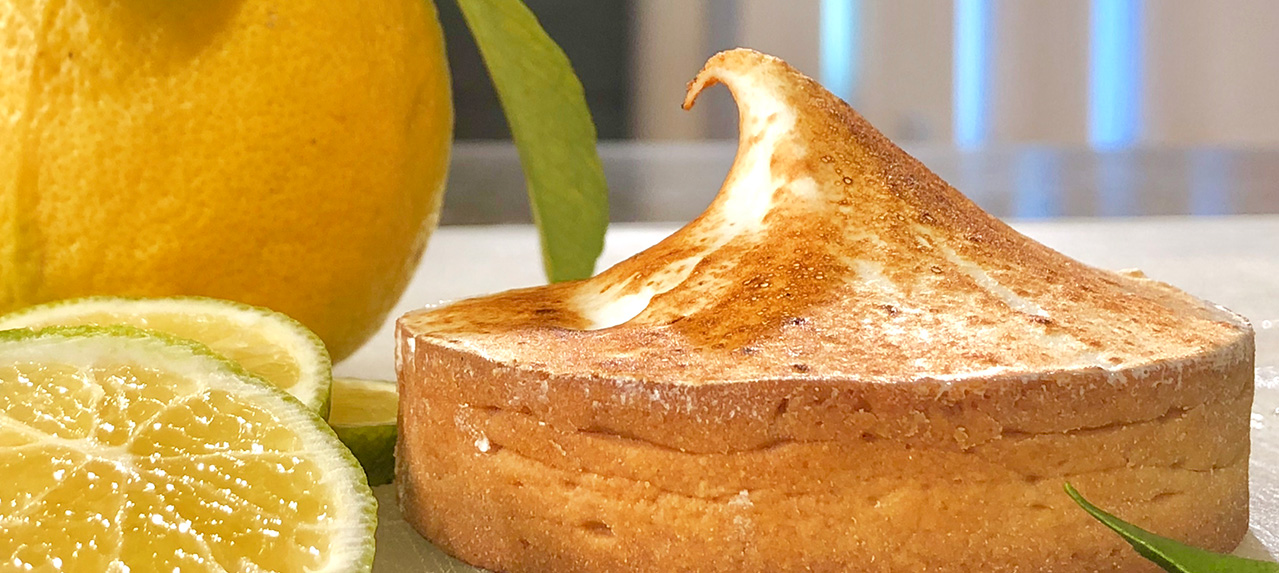 340 g all-purpose flour
100 g sugar
3 g salt
220 g butter
50 g egg
2 g vanilla extract
100 g lemon juice
1 pc vanilla pod
150 g eggs
140 g sugar
1 pc lemon zest
100 g egg white
200 g sugar
1 pc vanilla pod
1. Preheat the oven to 150ºC.
2. Place the pastry sugar crust on a lightly floured surface. Roll out the dough to 3 mm thickness and 10 cm in diameter. Transfer to prepared baking sheet
3. Bake it until golden brown. Let cool about 10 mn.
4. In a saucepan whisk together the lemon juice, sugar, vanilla pod and eggs.
5. Cook over medium heat, stirring frequently until mixture become thick.
6. Add the butter and mix well with hand blender, add the lemon zest.
7. Pour the cream into baked tart shell. Keep in fridge.
8. In an electrical mixer, whip egg whites until foamy. Add the sugar gradually. Continue whipping until stiff peaks form.
9. Spread the meringue over the tart.
10. Sprinkle the top of the meringue with icing sugar.
11. Use the hand burner to burn the meringue until golden brown