LAMB STUFFED WITH SPINACH AND HERBS
Serves 6 | Prep/cooking time 2 hrs 30 mins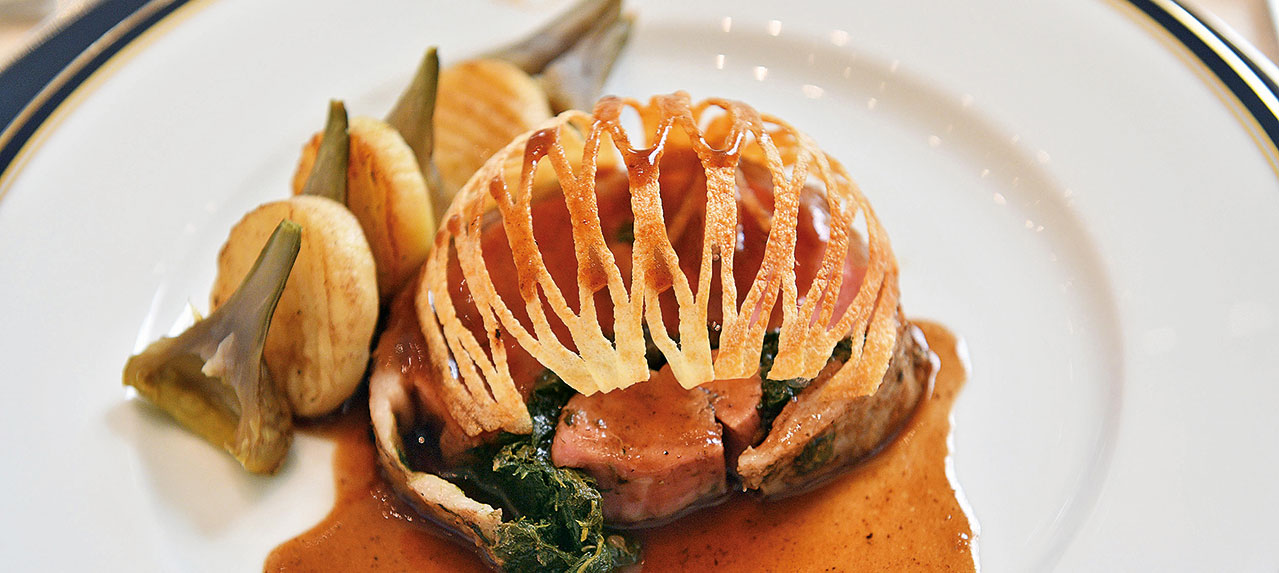 1 boneless lamb
10g parsley
10g chives
10g dill
10g basil
10g coriander
50g spinach
50g veal stock
1 kg baby artichokes
500g potatoes
3 thyme sprigs
2 cloves garlic
Olive oil and butter to roast the veal and potatoes
Salt & pepper to taste
1. For the lamb, wash, strain and blanch all herbs then cool in ice water.
2. Open the lamb and season, and then add the pressed herbs mixture, close and tie up with cooking string.
3. Wash the potatoes, cut in half and cook them in foil for 25 minutes at 170°C with a knob of butter, 3 sprigs of thyme, salt, pepper, some water and the cloves of garlic.
4. Cook the artichokes in water (add salt, half a lemon and flour to the water). Note: the flour will help the artichoke to maintain its color and not darken.
5. Cut the artichoke in half and remove the middle. Sauté the artichokes in butter or olive oil. Add salt and pepper.
6. Braise the meat and onions in a pan with olive oil and butter to give it a good color.
7. Bake in the oven for 2 ½ hours at 70 degrees. Remove from the oven, let the meat rest for 30 minutes and remove the cooking string.
8. For the sauce, heat veal stock or veal jus, add butter and mix until it thickens into a rich sauce.
9. Garnish with artichokes and potatoes as in the picture.