BRAISED LAMB SHANK WITH MACARONI AU GRATIN
Serves 4 | Prep/Cooking 2 hrs 15 mins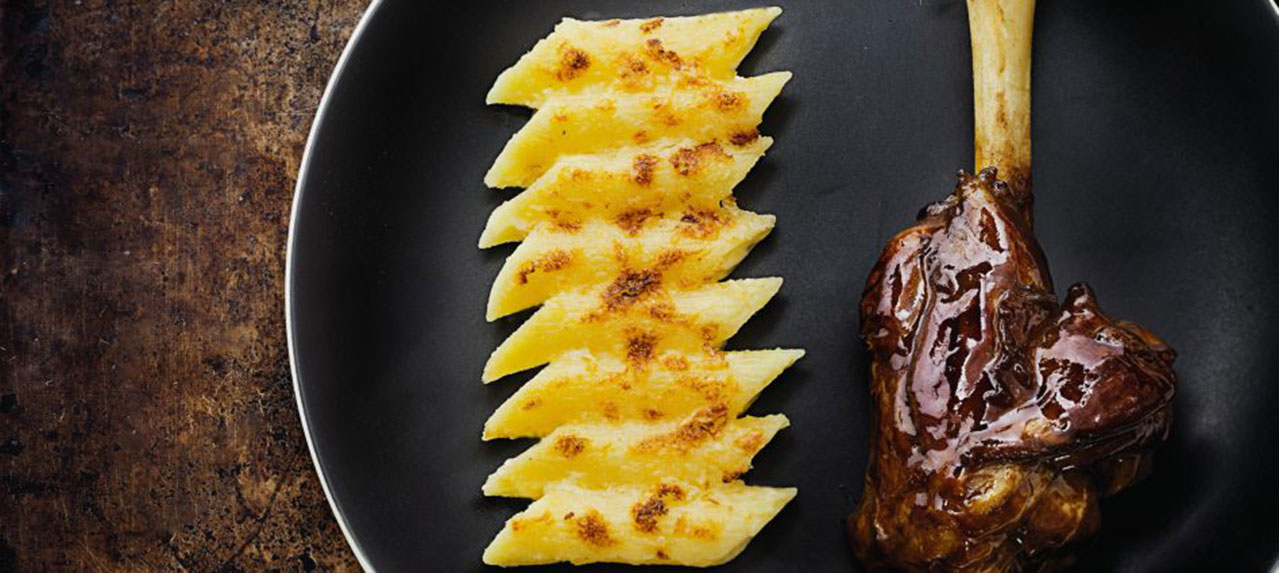 400g classic macaroni
¼ cup heavy cream
100g grated Emmental cheese
Fine salt
Freshly ground pepper
Cook the lamb shanks
4 lamb shanks
3 ½ tsp olive oil
1 onion
1 carrot
6 ½ cups brown stock
1 sprig bay leaves
1 bunch thyme
Fine salt
Freshly ground pepper
1. The day before, blanch the pasta for 3 minutes in boiling, salted water, then stop the cooking by draining it and plunging it into a bowl filled with ice water.
2. In a bowl, mix the cream, half the Emmental, and the pasta. Add salt and pepper, cover with plastic, and leave in the refrigerator for 12 hours. Stir gently from time to time until the pasta swells and absorbs the cream.
3. The pasta must be very al dente at the end of this first cooking, because it swells and then softens by soaking up the cream.
4. The same day, take any fat off the lamb shanks (if necessary), season them, and brown them in a pot, with the olive oil.
5. Preheat the oven to 350°F (180°C).
6. Peel and cut the onion and carrot into large chunks.
7. When the shanks are browned, add the carrot and onion, then moisten with the brown stock to halfway up their sides.
8. Season, add 1 bay leaf and thyme, then braise in the oven for 1 1/2 hours, covered.
9. Take the lamb shanks out of the pot, strain the cooking juices through a sieve, then reduce them. Correct the seasoning and set aside.
10. Glaze the shanks in the oven for 30 minutes, in an uncovered dish, basting them frequently with the reduced juices.
11. It is important to baste the shanks frequently during the cooking process to obtain a well-caramelized, glossy result.
12. Preheat the oven to 425°F (210°C)
13. Spread out the pasta in a single layer in a gratin dish. Sprinkle with the rest of the Emmental and bake for 7 minutes, under the broiler in the oven. Serve immediately.
14. If the pasta absorbed all the cream during the night, pour 2 to 3 tablespoons of cream into the dish before cooking in order to make the gratin softer.
15. Make up 4 small bouquets garnis, each with 3 bay leaves and 1 sprig of thyme. Cut a rectangle of the gratin and lay it on each plate, using a large, flat spatula. Arrange the lamb shank and a bouquet garni on top, then coat it with a little juice.
Serve the remaining juice in a gravy boat.
This recipe was originally published in "My Best Guy Savoy" (Éditions Alain Ducasse)
© Photo: Guillaume Czerw