HONEY ROASTED ORANGE CHICKEN
Serves 6 | Preparation 15 mins Cooking 20 mins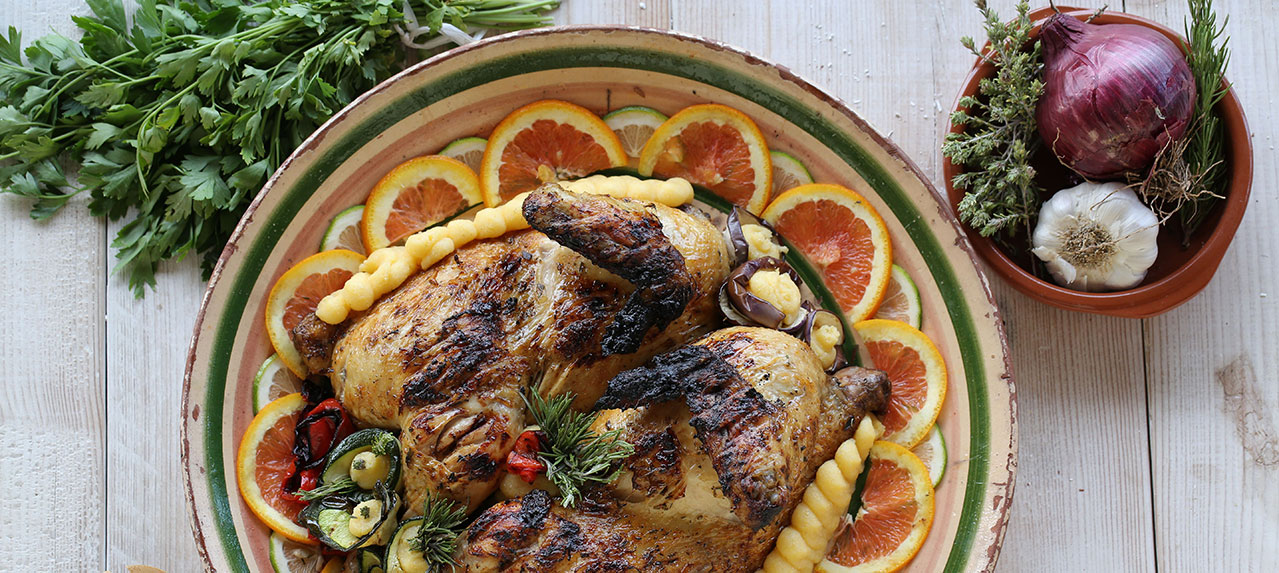 For glaze:
• 2 cloves garlic
• 1 medium orange, juice and zest
• 2 cubes MAGGI® Chicken Stock
• 3 tbsp. black bee honey
• 1 tbsp. olive oil
• 1 tsp. chili powder
For chicken:
• 1 large chicken, spatchcocked
• 1 medium lemon, juiced
• A large bunch fresh herbs (thyme or rosemary)
• 2 cloves garlic
• 1 tbsp. olive oil
• 1 tbsp. honey
• A pinch of orange zest
• Juice of half an orange
For polenta:
• 6 cups water
• 1 tsp. Salt
• 13/4 cup yellow cornmeal (polenta)
• 2 tbsp. butter – we can reduce the amount of butter or replace with oil
• 2 tbsp. thick balsamic vinegar for the garnish
1. Prepare glaze by putting all ingredients in a pestle & mortar and grind to a rough paste and set aside.
2. Prepare chicken by cutting the backbone out and flattening the chicken.
3. Marinate the chicken with the ingredients mentioned and set it aside for a while.
4. Then drizzle lemon juice inside and on the skin, and thread with skewer.
5. Place chicken over charcoal flame and sear on high-heat on both sides.
6. Move chicken further from high-heat to medium-heat, and using the fresh herb bunch, brush the glaze on.
7. Allow the glaze to cook and dry on the chicken before applying more glaze.
8. Repeat until chicken is fully cooked, glaze is over and the skin is crispy and golden.
9. Remove skewers and allow to rest for five minutes before cutting and serving.
10. Serve with salad, steamed rice or roasted vegetables.