GRILLED CHICKEN & TOMATO PENNE
Serves 4 | Prep/cooking time 1h 30 mins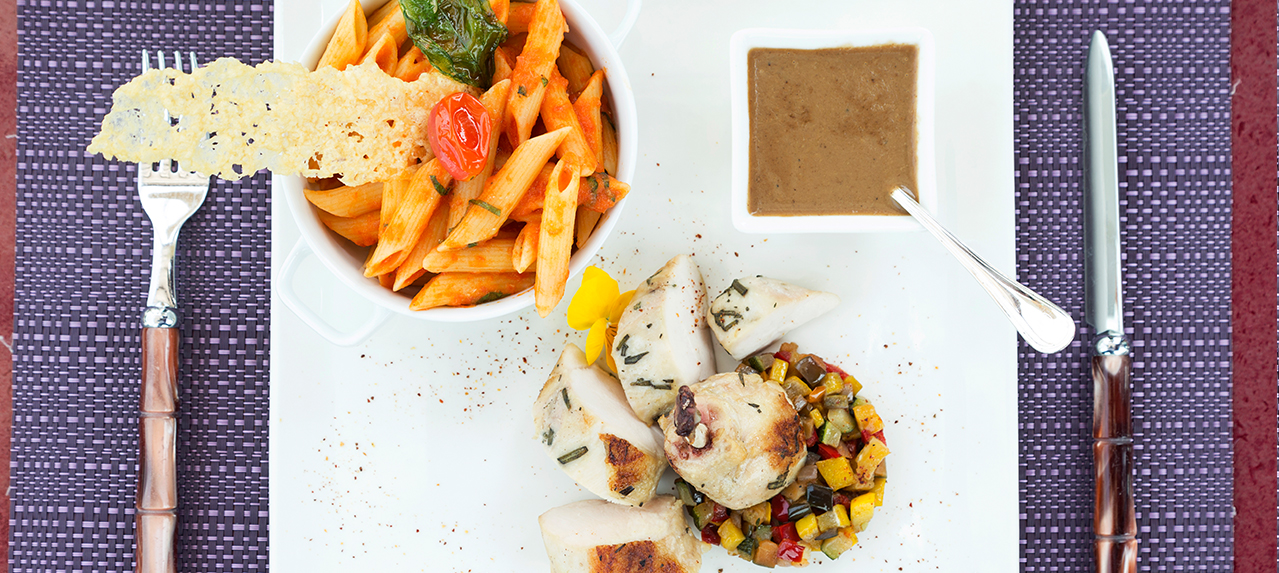 • 4 chicken breasts
• 1 sprig rosemary
• Salt & pepper to taste
For pasta
• 500g penne pasta
• 20 ml olive oil
• ½ L tomato sauce
• 1 pc basil
• 100g Parmesan cheese
For ratatouille
• 1 red bell pepper
• 1 yellow bell pepper
• 500g zucchini
• 1 eggplant
• 1 sprig French thyme
1. Salt and pepper the chicken. Wrap in cling film. Pour water in a pot. When it reaches 65°, (using a thermometer) add the chicken breast (while still in the cling film). Cook for 30 minutes. This technique will keep it juicy.
2. Cook the pasta al-dente. Add tomato sauce, fresh basil and Parmesan cheese. Add salt and pepper.
3. For the ratatouille, cut all vegetables into small cubes. Pour the olive oil into a frying pan, add the vegetables and cook al-dente.
4. Before serving, place the chicken breast in a frying pan with olive oil and fry gently to give it a golden color.