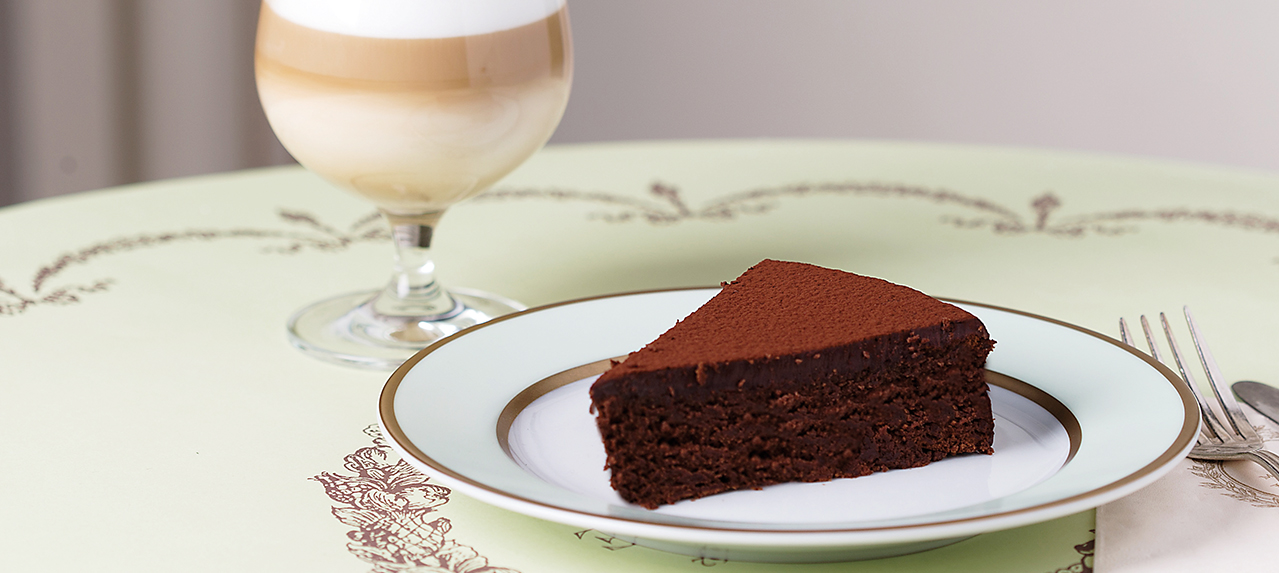 • 150g butter + 1 ½ tbsp for cake pan
• 35g cake flour + 2 ½ tbsp  for cake pan
• 150g chocolate (minimum 70%)
• 1 tbsp unsweetened cocoa powder
• 1 egg + 4 egg yolks + 7 eggs whites
• 150g granulated sugar
• Round cake pan, 22 ½ cm diameter
1. Butter the cake pan and refrigerate for 5 minutes to allow the butter to set. Remove from refrigerator and dust the interior with flour. Turn upside down and lightly tap out any excess flour. Keep in the refrigerator.
2. Using a knife, chop the chocolate on a cutting board. Place in a heatproof bowl set over a pan of gently simmering water. Add the butter and melt together over very low heat, stirring with a spatula. Remove from heat. Sift together the flour and cocoa powder and set aside.
3. Preheat the oven to 180°C. In a large mixing bowl, placed over a pan of gently simmering water, whisk together (as you would for genoise) the egg, egg yolks and half of the sugar (about 75g), until the
mixture thickens.
4. Remove from heat and set aside. Immediately whisk the egg whites to a foam in another large bowl. Once they are white and frothy, incorporate the remaining half of sugar (about 75g), while continuing to whisk for another minute.
5. Delicately fold a third of the egg and sugar mixture into the melted chocolate and butter. Pour the entire mixture back over the remaining 2/3 of the eggs and sugar, mixing gently. Delicately fold a third of the whipped egg whites, along with the sifted flour and cocoa powder, into the above mixture.
6. Pour this new mixture then back over the remaining 2/3 of whipped egg whites. Combine all together until smooth, being careful not to over mix. Pour batter into the cake pan. Place in oven and lower the temperature to 170°C. Bake for 25 minutes.
7. Remove from oven and allow to cool for 30 minutes before removing from the mould.