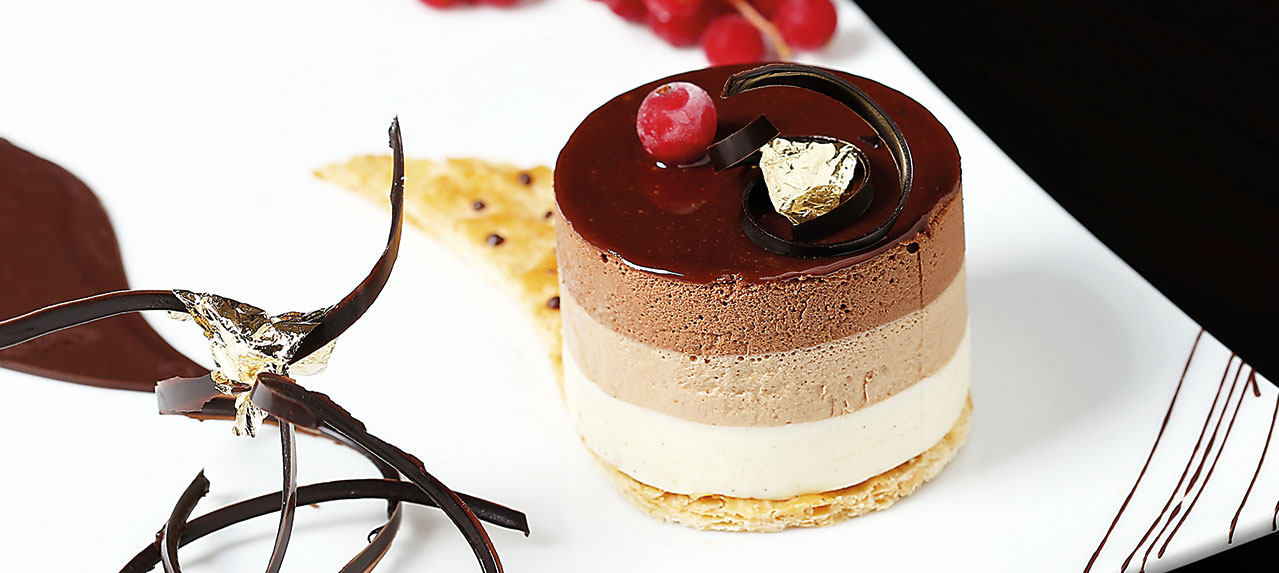 8 digestive biscuits
8 charlotte tape or ribbon PVC
Crème Brûlée
50g milk powder
12.5 ml fresh cream
1L water
2 eggs
25g sugar
5 gelatin sheets
Dark chocolate mousse
450 ml fresh cream
15g sugar
90g dark chocolate
185g cream chantilly
Milk Chocolate Mousse
450 ml fresh cream
15g sugar
90g milk chocolate
185g cream chantilly
1. Place the digestive biscuits on a serving tray.
2. For the crème brûlée, soften the gelatin in water. In a saucepan, combine the milk and cream. Heat the mixture over low heat.
3. In a small bowl, whisk the egg yolks and sugar. Mix the softened gelatin, the whipped egg yolk with the cream on a low flame.
4. Cool the cream and pour a 1 cm layer on the biscuits, in the pvc ribbon. Let it set in the refrigerator.
5. For the dark chocolate mousse, in a saucepan, heat cream and sugar over low heat. Add the melted dark chocolate and whipped cream and stir.
6. Pour a 1 cm layer over the creme brûlée mixture already prepared and place again in the refrigerator.
7. For the milk chocolate mousse, use the same procedure as the dark chocolate.