FLORAL PISTACHIO DESSERT "SPRING ON A PLATE"
Serves 4   | Preparation time 15mins | Cooking time 30mins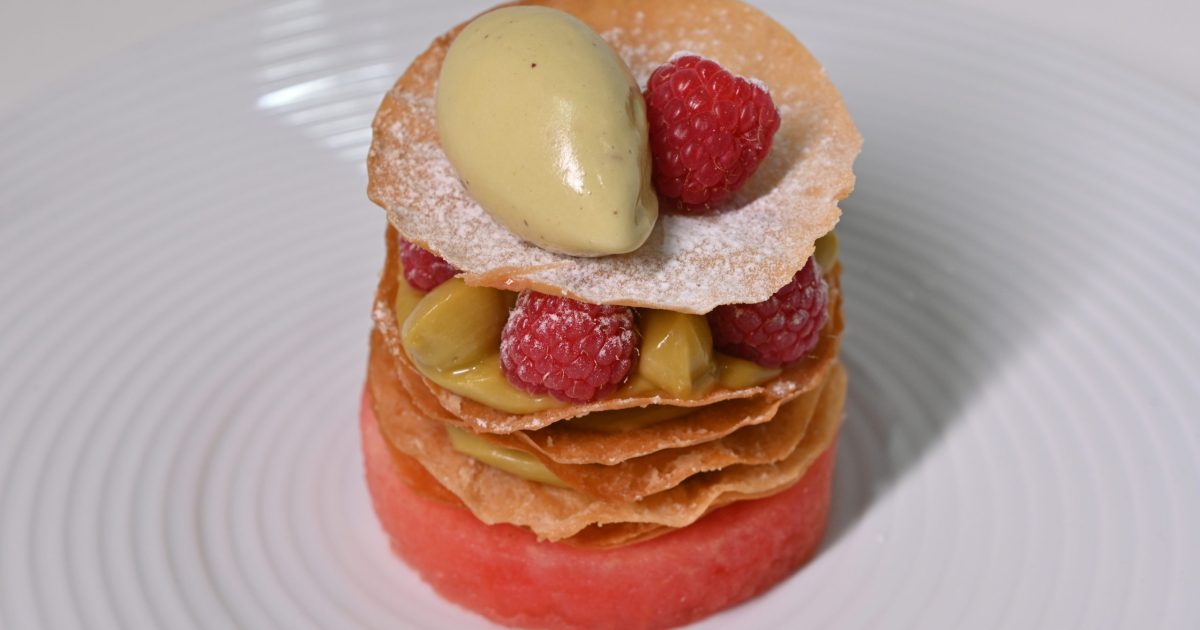 Phylo pastry disks
1 packet phyllo pastry
100 g extra virgin olive oil
100 g icing sugar
Floral pistachio custard
290 g almond milk
43 g cornstarch/cornflower
90 g caster sugar
5 g orange blossom water (mymoune)
5 g rose water (mymoune)
20 g coconut oil
50 g pure pistachio paste
Pistachio sorbet
100 g pure pistachio paste
80 g caster sugar
325 g water
1 g sea salt
Atr syrup
5 g rosewater
100 g caster sugar
100 g water
5 g fresh lemon juice
Plating
1 unit watermelon
20 g rosewater
50 g caster sugar
125 g fresh raspberries
30 g icing sugar
Phylo pastry disks
Place a sheet of phyllo on baking paper then brush with olive oil and repeat to create 5 layers of phyllo.
Use an 8cm cutter to cut and place the stack on a clean baking tray with baking paper attached with grease spray.
Dust with icing sugar and bake for 15-20 minutes until golden.
Floral pistachio custard
In a high-sided saucepan, add the milk , caster sugar, custard powder and vanilla paste (or the scraped seeds of a vanilla pod) and stir with a whisk to combine.
Bring to a simmer over medium heat.
Place the cornflour, and milk in a small bowl and mix them to dissolve and there are no lumps. When the milk in the saucepan comes to a simmer, turn the heat to low then pour in the cornflour mixture and continue stirring and the mixture will immediately thicken. Continue stirring until it comes to a boil and the mixture starts to bubble, then remove from heat.
Add the coconut oil and mix it in to melt. Whisk in gently as it may start to look separated, then continue mixing until it is fully incorporated, glossy smooth and clings to the sides of the saucepan.
Pour the hot mixture into a shallow dish with a layer of plastic wrap pressed to the surface to prevent a skin from forming. Refrigerate until firm and set. Store in the refrigerator for unto 4 days.
Before using, take what you need in a small bowl and whisk it until smooth and there are no lumps.
Atr syrup
Place together in a small saucepan and bring to a simmer, then chill before using to serve.
Pistachio Sorbet
Blend together very well and freeze in a container.
Plating
Prepare watermelon disks, by making big slices, 1cm thick and using 8cm cutter to cut a disk, Macerate in caster sugar and lightly sprinkle with rosewater.
Place disk of fresh watermelon, a piping of some pistachio cremeux, then another layer of phyllo.
Place raspberries around the edge of the baked phyllo, then beat the pistachio custard cream with a whisk and pipe with a plain piping tube and place another layer of baked phyllo sheets on top.