FIRST 'DINE-IN CINEMA' IN DUBAI
Emaar's Reel Cinemas to kick-off the region's first 'Dine-In Cinema' in Dubai in partnership with superstar chef Guy Fieri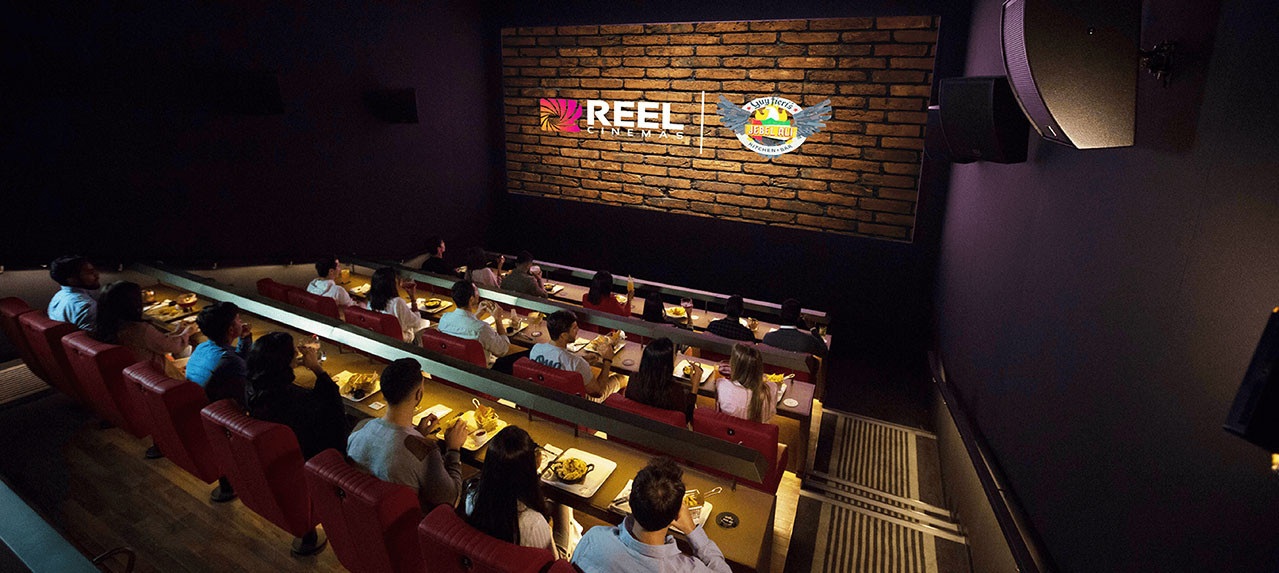 Reel Cinemas, the cinema brand under Emaar Entertainment, teamed up with international superstar chef Guy Fieri to launch the first stand-alone Dine-In Cinema featuring his highly acclaimed American Kitchen concept in the Middle East.
Guy Fieri's Kitchen & Bar and Dine-in Cinema by Reel Cinemas at Jebel Ali Recreation Club will redefine the cinematic experience in the region. Restaurant-prepared meals from Guy Fieri's American Kitchen will be delivered to the table of cine-goers.
This is the first partnership in the Middle East by Emmy Award-winning chef, restaurateur, TV personality and New York Times bestselling author, Guy Fieri. With 45 restaurants located across the United States and Mexico, and forthcoming restaurants in South Africa, this marks the next step in Fieri's international expansion.
The Guy Fieri cuisine will be available at three locations of Reel Cinemas in Dubai, with the first open at Jebel Ali followed by Reel Cinemas – The Dubai Mall and Reel Cinemas – The Pointe in The Palm Jumeirah.
Combined, the theaters will have 14 dine-in screens, with session tickets covering not just the film but also a sumptuous meal comprising of an appetizer and main course. The Guy Fieri cuisine adds an extra flair of excitement to cinema outings, with the focus being on the food; for a change, none of Dine-In Cinemas will serve popcorn.
Damien Latham, chief executive officer, Emaar Entertainment, the operator of Reel Cinemas, said: "Reel Cinemas is setting new benchmarks in providing moviegoers with unprecedented entertainment experiences. We are diversifying our portfolio to surpass the existing cinematic choices, even beyond what is on offer in international markets. The new concept delivers more than just a big screen; comfort, entertainment and a unique F&B offering are at the heart of what we deliver at Reel Cinemas. Guy Fieri represents the latest in strategic partnerships that underlines our commitment to pioneering innovative trends for the cinema industry in the Arab world."
"We are bringing the best of my American restaurants to Reel Cinema's best-in-class theaters, the concepts that we are building are truly a first of their kind venture for both of us. I know how to give guests a real-deal food experience and I know that Reel Cinemas has the expertise to apply it to the theater space – so it's a great partnership. We've been working hard on this, with my team coming back and forth from the US regularly and we'll be on site to make sure that these restaurants are impeccable from day-one, giving guests an all-round good time in this first-for-the-region experience – people are going to dig it!" said Guy Fieri, Restaurateur.
Reel Cinemas has already set a new standard for cinema experience in the region with its flagship megaplex at The Dubai Mall having relaunched following a dramatic transformation. The all-new cinema reflects the forward-thinking nature of Reel Cinemas, redefining the customer journey as the first cinema to have a digitally focused pre-cinema experience, as well as Dolby Atmos and Barco Laser projection in every theater for a truly immersive experience.