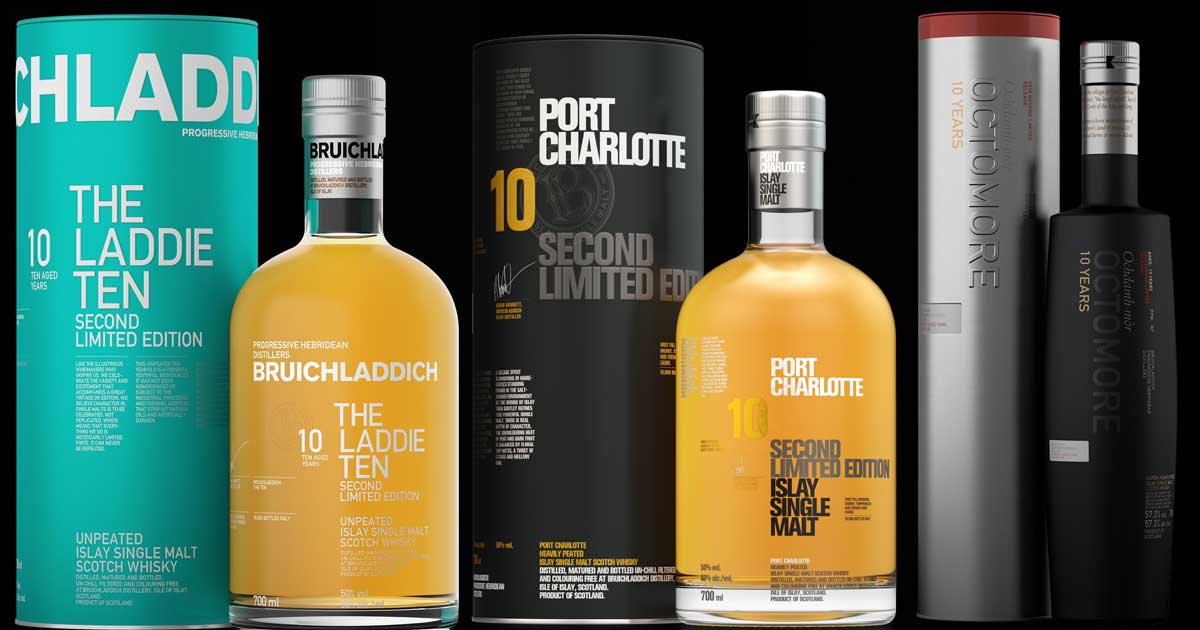 BRUICHLADDICHTHE LADDIE TEN
10 ISLAY AGED YEARS / SECOND LIMITED EDITION
Like the illustrious winemakers who inspire us, we celebrate the variety and excitement that accompanies a great vintage or edition. We believe character in single malts is to be celebrated, not replicated, which means that everything we do is necessarily limited. Finite. It can never be repeated.
PRICE 80$
PORT CHARLOTTE 10
SECOND LIMITED EDITION
The smouldering heat of peat and dark fruit is finessed by floral top notes, a twist of citrus and mellow oak. Full term in first-fill bourbon, sherry, tempranillo and French wine casks. Bottled at 50% alc. vol. using Islay Spring water. Heavily peated Islay Single malt – 40ppm. 18,000 individually numbered bottles only.
PRICE 90$
OCTOMORE10 AGED YEARS / RELEASE: 2016 / 167 PPM
This spirit was distilled in December 2005 using malt peated to a colossal 167ppm.  Filled into Fresh Bourbon and Grenache Blanc casks. In this second edition of ten year old, the unique texture of Octomore is lifted further by the smooth, sweet fruit of Grenache and engages perfectly with the phenolic depth. Just 18,000 bottles exist, presented at 57.3% alc.vol. with a splash of Islay spring water.
PRICE 230$
Bruichladdich Distillery