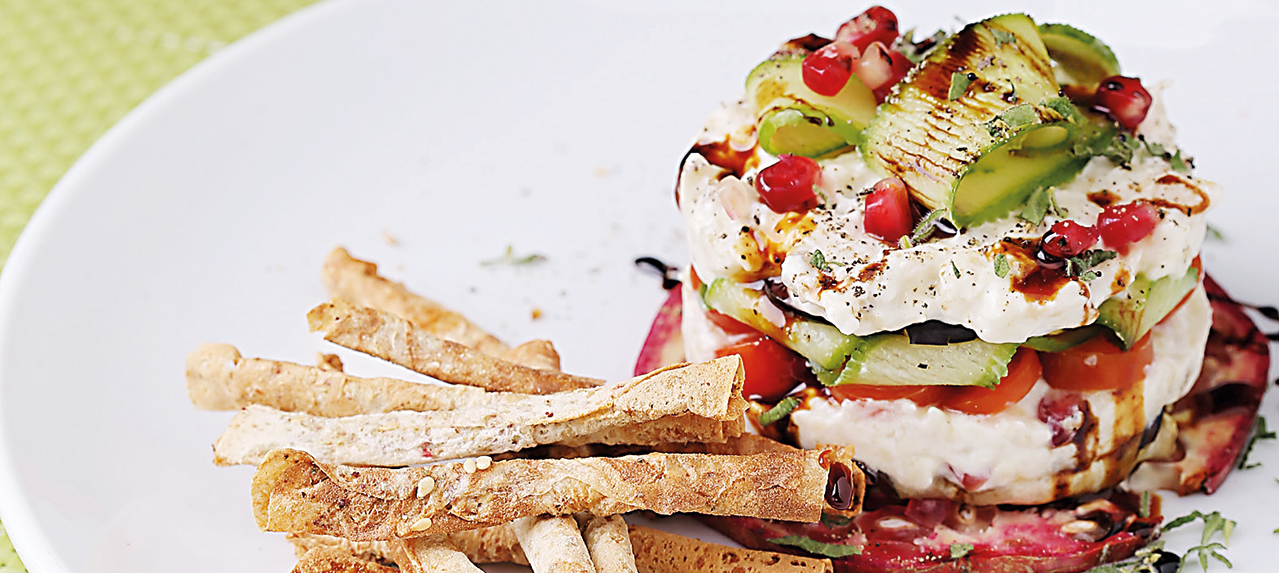 1,200g eggplant
300g cucumbers
80g labneh
20g tahini
80g pomegranate seeds
1g white pepper
1g salt
100 ml lemon juice
40g garlic
40g parsley
120g cherry tomatoes
40ml olive oil
80ml debs el remman (pomegranate molasses)
1. Grill an eggplant directly over a high flame turning it around every 2 minutes or so
until it is grilled on all sides.
2. Once the water from the eggplant evaporates and all sides are well grilled, remove it from the fire. Peel it and remove the seeds to reduce bitterness. Then, roughly chop 2/3 of it and slice the other 1/3.
3. Place the chopped eggplant in a large bowl; add the labneh, tahini, salt, white pepper, olive oil, lemon juice, diced cucumber, and the chopped parsley. With a fork, mix all together, adding cherry tomatoes at the end.
4. Present in a bowl topped with pomegranate seeds or in layers. To layer, use a cooking ring, fill it with a single layer of pomegranate seeds.
5. Put 1/3 of the mixture over the seeds, layering it with a slice of eggplant and another layer of cherry tomatoe halves. Place the last 1/3 of the mixture topping it with the remaining pomegranate seeds and chopped parsley for decoration.
6. For the zaatar bread, mix dried thyme, sesame seeds and olive oil; spread it over traditional Lebanese markouk bread. Roll tight, cut in 5 cm pieces and bake in the oven for 7 minutes at 200°C.