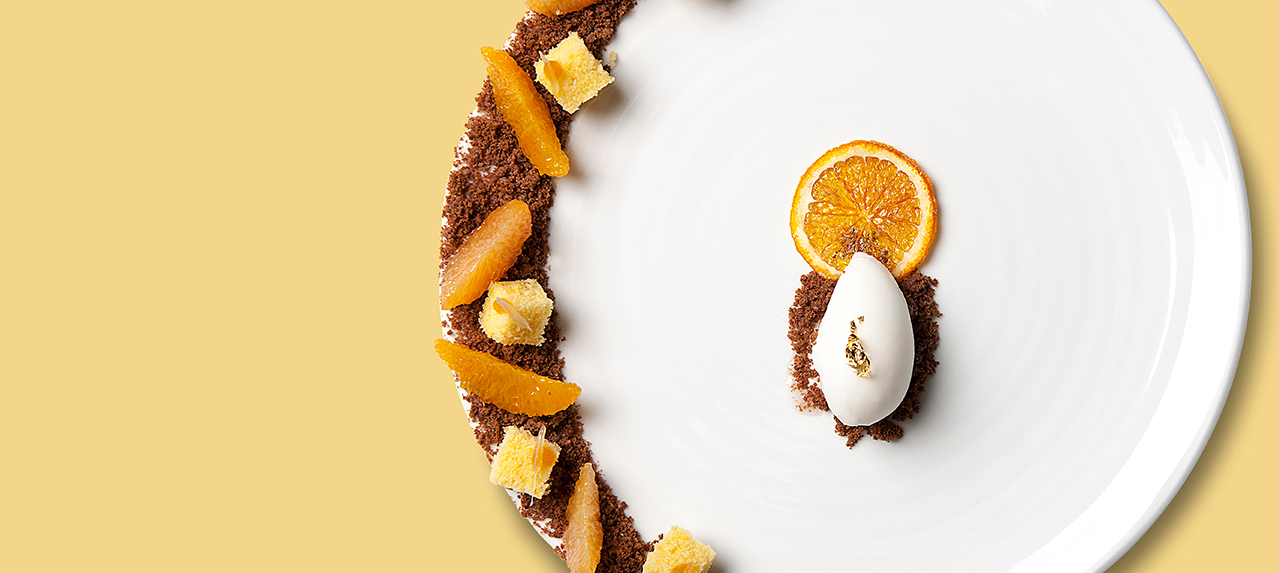 Cocoa crumble
• 100g butter
• 100g sugar
• 100g almond powder
• 20g cocoa powder
• 10g flour
Citrus segments
• 1 orange
• 1 grapefruit
• 1 lemon
Citrus syrup
• 500g water
• 500g sugar
• 3 orange zest
• 3 lemon zest
• 3 grapefruit zest
• Optional spices: cinnamon, anise,
cloves, etc…
Lemon cake
• 110g egg yolks
• 150g sugar
• 75g cream
• 115g flour
• 3g baking powder
• 3 lemons, finely zested
• 50g melted butter
Orange chips
• 1 orange
• Icing sugar
1. For the coco crumble, preheat the oven to 180°C. Mix the sugar and the butter until it's creamy. Add almond powder. Add cocoa powder and flour. Make little balls of dough with your hands (the size of a nut). Cook the crumble 15 to 18 minutes.
2. For the citrus segments, peel the citrus and cut into segments.
3. For the syrup, boil all ingredients together. Put the citrus segments into the boiled syrup. Place in fridge until cold.
4. To make lemon cake, preheat the oven to 160°C. Mix egg yolks with sugar. Add cream. Then add flour, baking powder and lemon zest. Finish by adding the melted butter. Cook the cake for approximately 30 to 35 minutes or until knife inserted near center comes out clean.
5. Preheat the oven to 90°C. Slice the orange finely. Place orange slices on greaseproof paper. Sprinkle icing sugar on orange slices and put in oven until slices are dried.