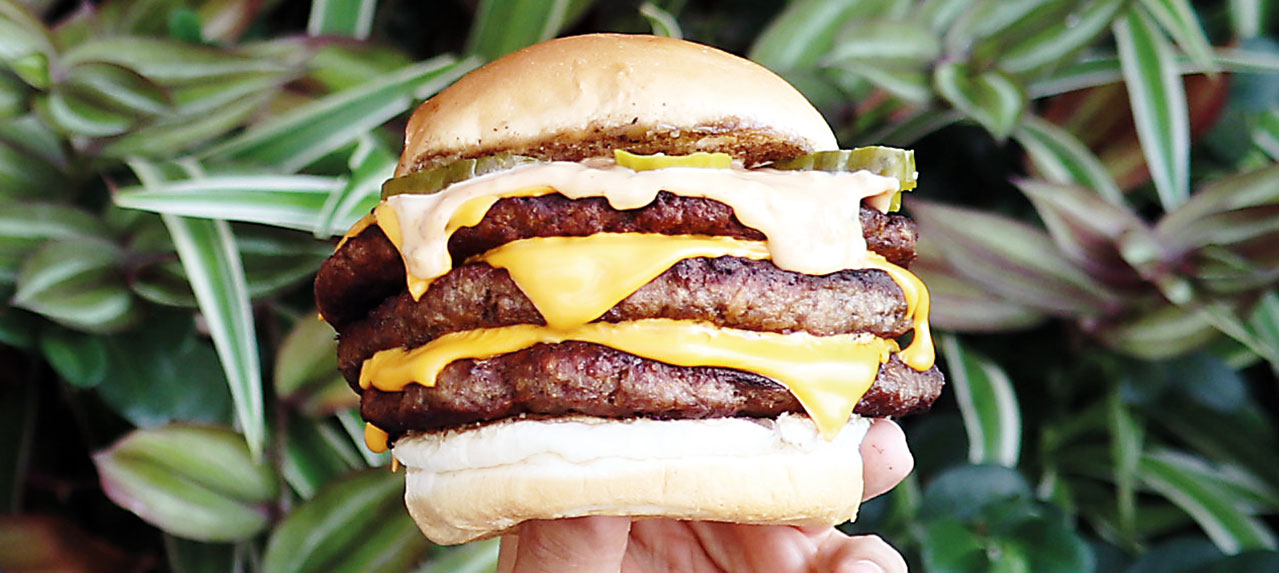 480g minced meat (Rib and chuck 70/30 meat to fat ratio)
4 plain seedless burger buns
4 slices cheddar cheese
Caramelized onions
4 white onions
Olive oil
Salt & pepper
Sugar
DaddyFoody sauce
4 tbsp mayonnaise
4 tbsp ketchup
4 tbsp pickle relish
2 tbsp yellow mustard
2 tbsp Sriracha chili sauce
DaddyFoody oil
4 tbsp butter
4 tbsp olive oil
1 garlic head (sliced in half)
1 sprig rosemary
1 tbsp thyme
1. First, prepare the caramelized onions, by dicing them and lightly pan-frying them until brown.
2. Then add a little water, salt, pepper and sugar, then stir lightly until jam consistency.
3. Next, time for the secret ingredient, the DaddyFoody oil. Melt the butter gently in a saucepan, then add oil, garlic, rosemary and thyme, and simmer over low heat for 5 minutes.
4. Then, prepare the DaddyFoody Sauce by mixing all the condiment ingredients together.
5. Now we're ready to cook the burger patties. Divide the burger meat into 4 equal portions (120gr each), and roll the meat into balls.
6. Make sure your pan (or flat-top grill) is piping hot, sprinkle lightly with oil, and place the meat balls.
7. Now immediately take your metal spatula, and press firmly onto each meat ball until you obtain a flat burger disk shape.
8. Salt liberally, wait 30-45 seconds, then scrape the burgers off the pan and flip (flip only once).
9. Now place a slice of cheddar cheese on each burger patty, and top with caramelized onions.
10. Take your buns, and brush them liberally with DaddyFoody oil, and place them for a few seconds on the hot pan.
11. Now build your burger: bottom bun, DaddyFoody Sauce, meat patty with cheese and onions, top bun.