Serves 4-6 | Soaking 1 hr Preparation 15 mins Cooking 2 mins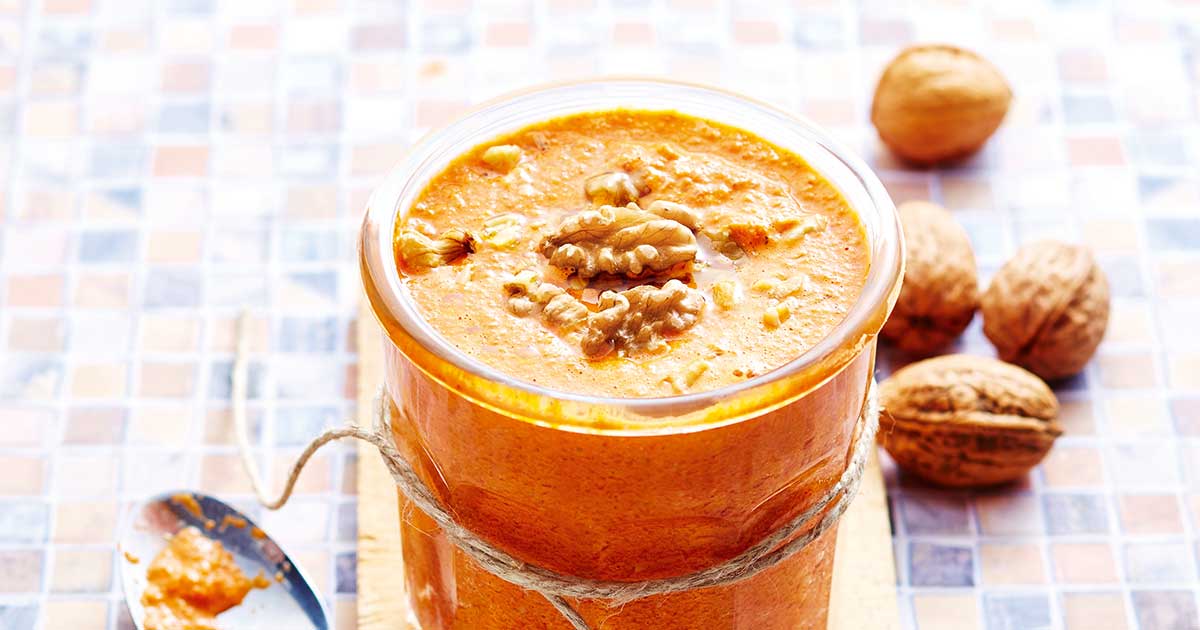 100g Crushed nuts + some kernels
100g Gluten-free oatmeal
4 soft Red peppers
4 tbsp Pomegranate juice without added sugar
2 tbsp Olive oil + 1 spoon
1/2 tsp. Powdered cumin
3 pinches Himalayan salt
1 pinch Black pepper
1. Soak the oatmeal for 1 hour in warm water, then drain.
2. Dip the peppers for 2 minutes in boiling water and peel them.
3. Mix the oatmeal, peppers, pomegranate juice, olive oil, caraway, salt and pepper until smooth.
4. Add the nuts and mix for 5 seconds. Add olive oil and decorate with walnuts.
Tips
Rather than automatically dig into a candy bag, why not feast on a handful of nuts?
Nuts are source of vitamins, minerals, proteins, fiber, antioxidants and good fats. Thanks to its shell that protects and conserves its nutrients, it is eaten all year long. Regular consumption, of few nuts a day, can help reduce the risk of type 2 diabetes and cardiovascular disease, lower cholesterol levels, but also strengthen the immune system and reduce stress. Most importantly, nuts contains alpha-linolenic acid, an omega-3 that helps maintain brain health. Its greatest advantage is that, it acts as an appetite suppressant thanks to its high fiber content.