CREAM & ROSE WATER FILO PARCELS
Makes 12 | Preparation 60 mins Cooking 20 mins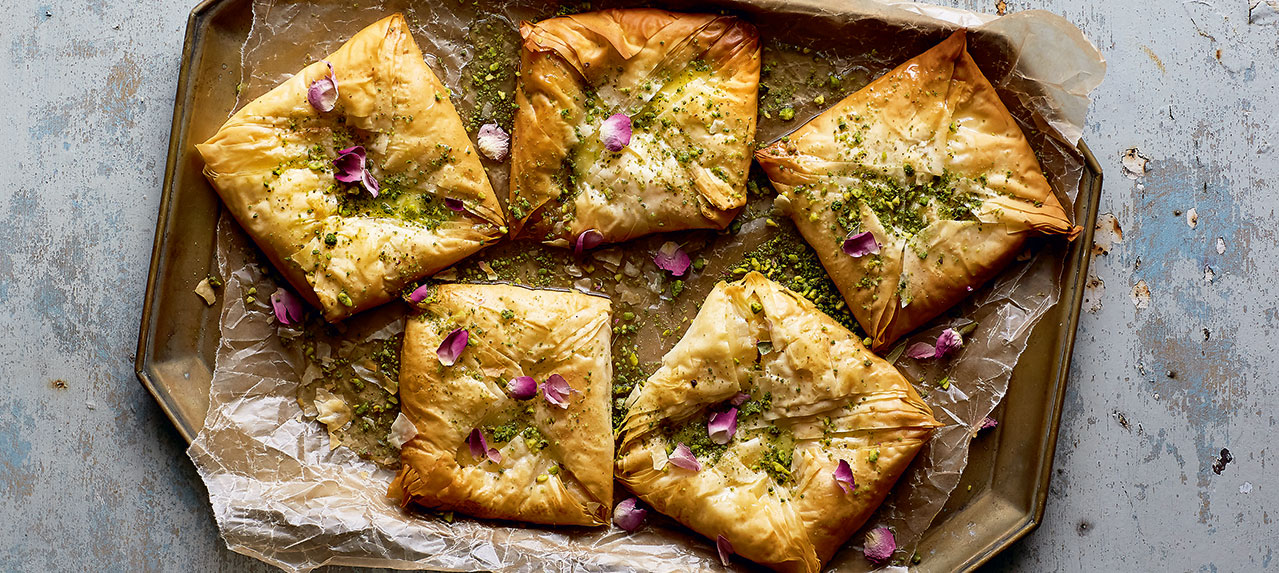 For the pastries
600ml double cream
75g cornflour
100ml water
5g gum mastic
220g filo pastry sheets
250g butter, melted
For the syrup
250g granulated sugar
500ml water
50ml rose water
Pared rind of 1 lemon
To serve
25g finely chopped pistachio nuts
Rose petals
1. Put the cream into a pan and slowly bring to the boil.
2. Mix the cornflour with the water and pour into the pan with the gum mastic. The mixture should thicken immediately; take the pan off the heat and use a balloon whisk to mix until very smooth. Allow to cool.
3. Preheat the oven to 200°C/180°C fan/gas mark 6.
4. Unroll the filo pastry and split it into two piles of six sheets each. Put one pile to one side and cover with a clean, damp tea towel.
5. Take the other pile of sheets and put them on a board with the long edges nearest to you.
6. Cut them through the middle to make two long rectangles, then cut each length into six squares. You can trim the edges to make them perfect, if you want to.
7. Working quickly, take one square of six sheets and brush melted butter between the pieces of filo.
8. Take one of these squares and spoon three tablespoons of the cream mixture into the middle and spread it out slightly. Fold in the points of the four corners to make a parcel. Do the same with the other five squares to make six parcels. Then make another six parcels with the covered, uncut pile of sheets, cutting and filling them in the same way.
9. Lift the parcels onto a baking sheet and brush with melted butter. Bake for about 20 minutes until golden.
10. Meanwhile, put all the syrup ingredients into a pan and bring to the boil. Simmer for 10 minutes until thickened slightly, then cool.
11. Once cool, spoon most of the syrup over the pastry parcels. To serve, put a parcel on each plate, spoon over a little more syrup, then sprinkle with pistachios and rose petals.