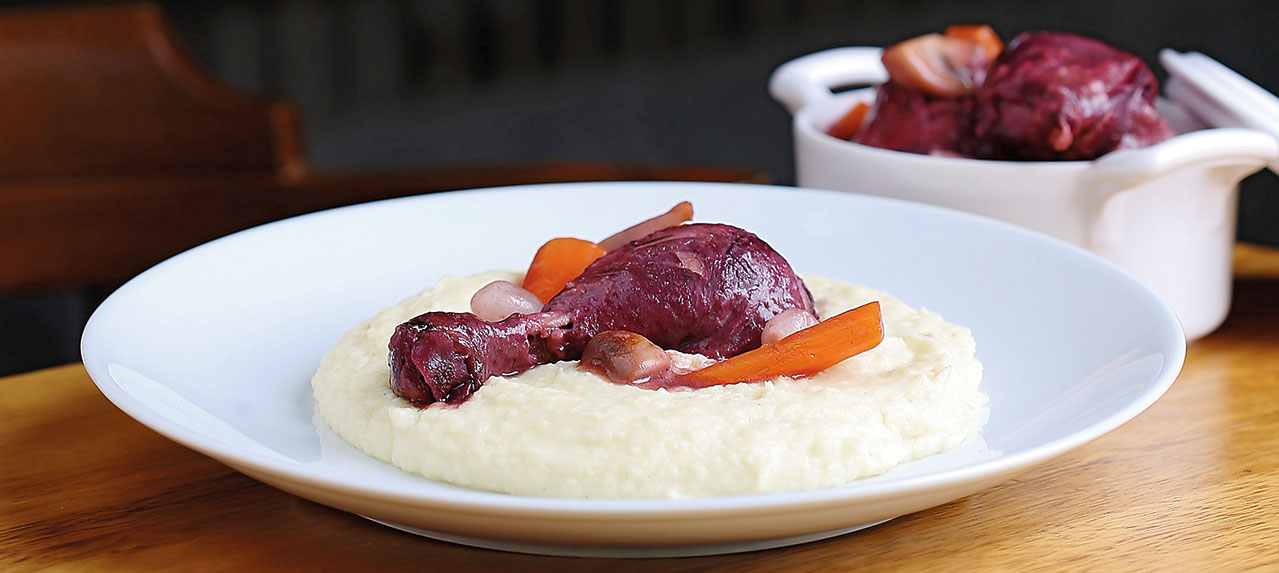 4 kg chicken legs and thighs
1L red wine
500g carrots
600g fresh mushrooms
150g smoked lard
15 baby onions
1 garlic head
1 bunch fresh thyme
1 bunch parsley
1 bay leaf
1L chicken stock
50g salt
20g pepper
50 ml cognac
1 tsp cornstarch
Flour
1. Slice the mushrooms, sauté in butter and set aside.
2. Heat olive oil in a pan; brown the chicken and set aside. Add the onions into the pan and caramelize.
3. Cut the lard into dices, add to the onions and let it cook until brown. Re-add the chicken until hot, add the cognac and flambé the whole mixture.
4. Sprinkle flour on top. Stir by shaking the pan and without using a spatula to coat the chicken.
5. Add the wine and bring to a boil. Add the chicken stock diluted with 1 cup of hot water. Add salt and pepper, finely cut garlic, chopped parsley, a bay leaf, sliced carrots, thyme and the mushrooms. Bring to a boil. Let it cook uncovered for 5 minutes, then cover and let it simmer on low heat while stirring the mixture from time to time for an hour and a half.
6. If the sauce is not creamy, dilute 1 tablespoon of cornstarch in a cup of cold water and pour it into the mixture while stirring.