CHOU MATCHA WHITE CHOCOLATE
Makes 6 pieces | Preparation 30 mins Baking 45 mins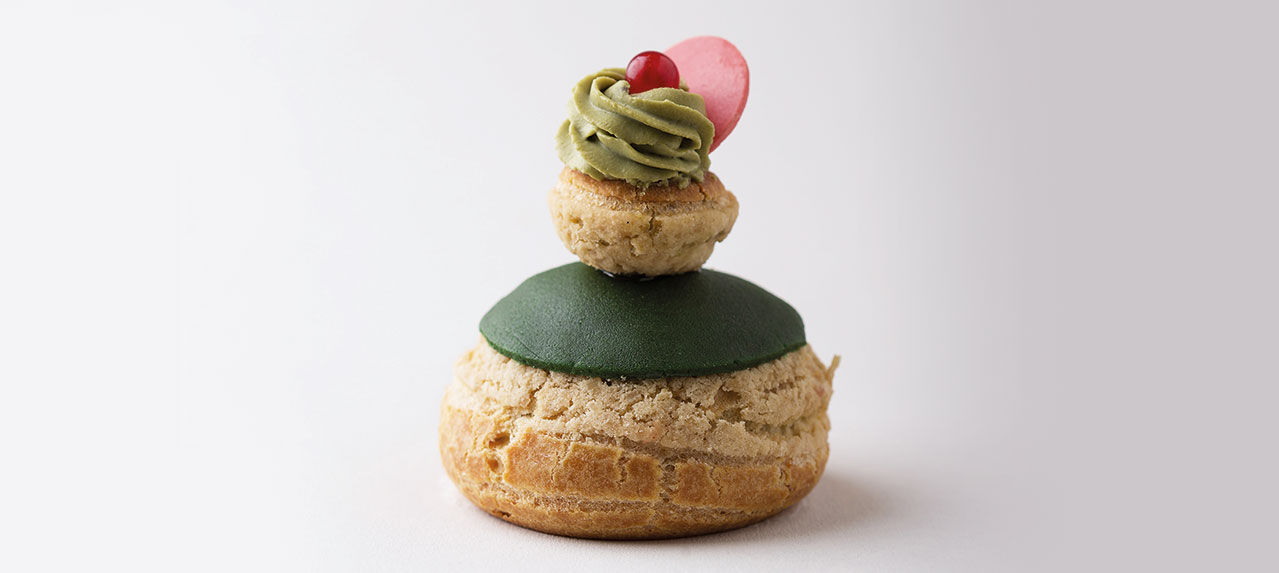 Crème pâtissière matcha white chocolate
3 eggs
50g flour
500 ml milk
100g sugar
100g white sugar
3 tsp matcha powder
1 vanilla bean
Pâte à choux
100g water
50g milk
90g butter
Pinch of salt
110g sugar
110g flour
4 eggs
Chantilly matcha
200g whipping cream
30g sugar
1 tsp matcha
For the Crème Pâtissière
1. Boil the milk. Add the matcha and scraped vanilla bean and let it infuse for 5 minutes.
2. Mix the eggs with the sugar and beat. Add flour and beat again.
3. Pour 1/3 of the infused milk over the eggs, then pour the egg mixture over the milk. Bring to the boil, while beating constantly. Keep beating on a medium heat for 1 minute after the cream boils.
4. Pour over the white chocolate (cut into small pieces) and mix well. Cover with cling film and place in the fridge. Keep in fridge until thoroughly chilled.
For the Pâte à choux
1. Combine the milk, water, butter, salt and sugar in a pan and bring to the boil.
2. Add the flour all at once and put back on the heat, stirring for 1 minute. Pour into a bowl.
3. Add eggs one at a time, stirring well after each, until the egg is completely blended.
4. Put in a piping bag and pipe big and small balls.
5. Bake in a 180-degree preheated oven for 30 – 45 minutes.
For the Chantilly Matcha
Mix ingredients and beat until stiff peaks form.
Combination
1. Fill the small and big choux with the matcha white chocolate cream at ¾ of capacity.
2. Fill the remaining ¼ with redcurrant-morello cherry compote (found in supermarkets).
3. Attach the small chou upside down to the big one using glucose. Pipe over the Chantilly.