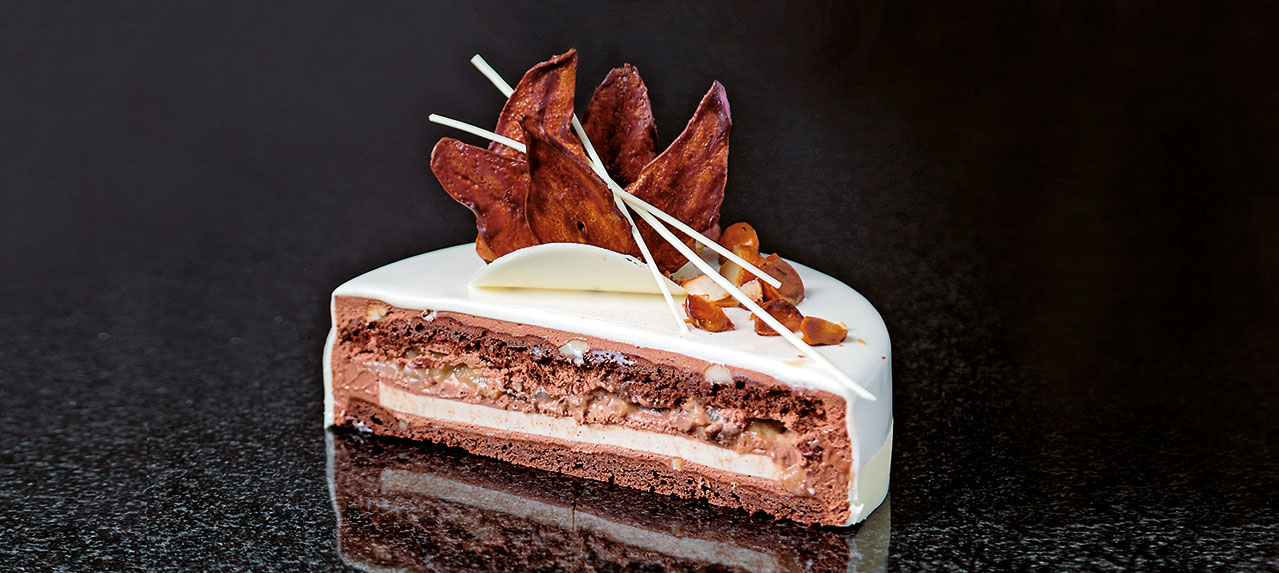 Macademia brownie
40g egg yolks
10g caster sugar
100g dark chocolate 66%
90g butter
70g egg whites
10g caster sugar
25g flour
35g chopped macademia nuts
Crème brulée vanille cognac
190g whipping cream UHT
50g whole eggs
20g eggs yolk
35g caster sugar
½ vanilla pod
4g gelatin
22g cognac
Dark and milk chocolate mousse
120g egg yolk
40g water
160g sugar
150g milk chocolate 45%
300g dark chocolate 70%
900g whipped cream
Pan fried pears
750g ripe pears
90g caster sugar
45g butter
50g cognac 50%
1 cinnamon stick
White mirror icing
150g water
300g glucose
300g caster sugar
200g sweetened condensed milk
24g gelatin
300g white chocolate
4g white colorant
For the Macademia Brownie
1. In a mixer, beat the yolks with the first amount of sugar to a sabayon texture. Mix the melted chocolate and the softened butter.
2. Whisk the egg whites with the second quantity of caster sugar.
3. Mix the sabayon and the chocolate and butter mixture, then add the whipped egg whites and the flour.
4. Place in 16cm diameter circle and sprinkle with chopped macademia nuts.
5. Cook in a convection oven at 175ºC for about 18 minutes.
For the Crème Brûlée Vanille Cognac
1. Make a custard with the cream, eggs, egg yolks, caster sugar and vanilla pod, and cook to 84ºC.
2. Allow to cool and then add the cognac and gelatin.
3. Place in 16cm circle film or flexipan disc molds. Place in freezer.
For the Dark & Milk Chocolate Mousse
1. Make a bomb mixture.
2. In saucepan, cook the water and the sugar to 118ºC, pour the egg yolks in the mixer and continue beating until reach 45ºC.
3. Melt chocolate together to 35ºC with a quarter of a whipped cream.
4. Add the bomb mixture at 35ºC, then the rest of the whipped cream. Set aside for assembly.
For the Pan Fried Pears
1. Cut the pears into thin slices.
2. Melt the butter and caster sugar in a frying pan. Add the pears and fry until just cooked with the cinnamon stick.
3. Flambé with the cognac.
4. Remove the stick, pour the pears into a sieve and leave to cool on baking sheet. Set aside for assembly.
For the White Mirror Icing
1. Cook the water, caster sugar and glucose to 102ºC.
2. Pour over the sweetened condensed milk and the gelatin, and then lastly over the white chocolate and white colorant. Refrigerate overnight.
3. The following day, heat the glaze to 40ºC and let cool to 35ºC before use.
Assembling
1. On a baking tray covered with a plastic sheet, line 18cm-diameter, 4.5 cm-high cake rings with dark and milk chocolate mousse.
2. Place a macademia brownie in the bottom of the ring, cover with a thin layer of double chocolate mousse.
3. Arrange the pears and cover with chocolate mousse.
4. Add the crème brûlée vanille-cognac.
5. Smooth with the rest of the mousse.
6. Place in freezer for 6 hours.
7. Remove the desserts from mold and glaze them with the white mirror icing.
8. Decorate with baby pears and chocolate decorations.