CHOCOLATE CAKE WITH DARK CHOCOLATE GLAZE
Serves 10 to 12 | Prep/cooking 20 mins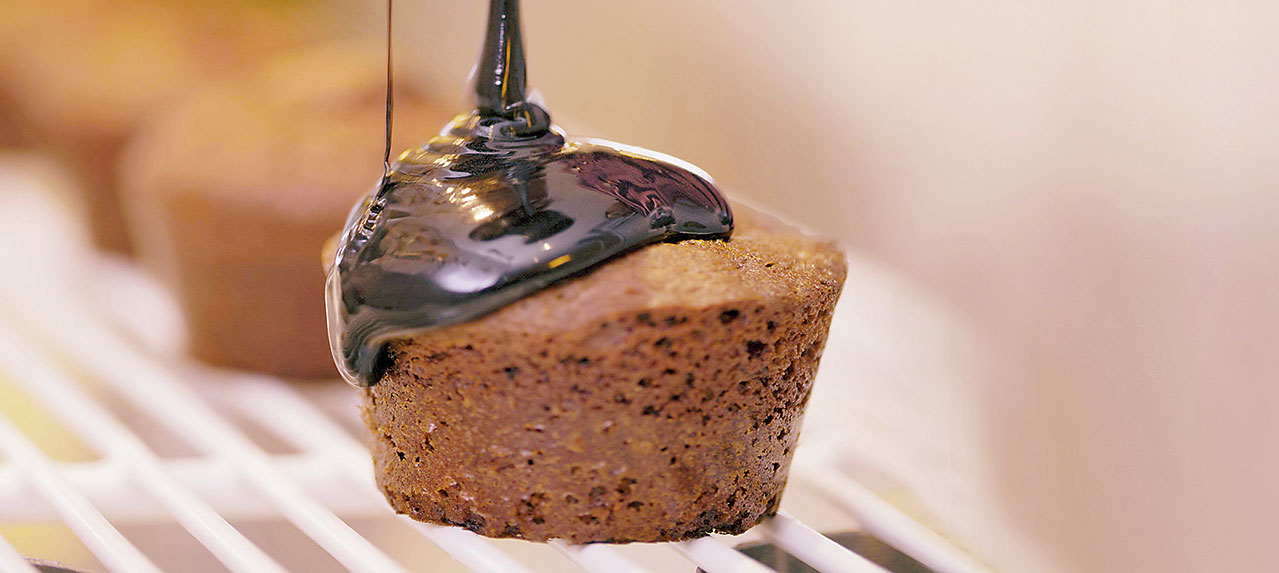 225g butter
70g cocoa powder
90g water
210g granulated sugar
130g cream
5g vanilla extract
2 eggs
220g flour
5g baking soda
2g salt
Dark chocolate glaze
114g dark chocolate
40g whipping cream
25g corn syrup
5g vanilla extract
1. Grease and flour a 10 to 12 person cupcake pan. Heat oven to 175°C.
2. Melt butter in a large saucepan over medium-low heat; add cocoa, stirring until smooth. Whisk in the water and remove from heat.
3. To the warm cocoa mixture, add the sugar, cream, vanilla, and eggs; whisk until smooth.
4. In another bowl combine the flour, baking soda, and salt. Add all at once to the first mixture, whisking until well blended.
5. Pour batter into prepared pan. Bake for 20 to 25 minutes, or until it feels firm to the touch and has slightly pulled away from the sides of the pan.
6. Cool on a rack for 20 minutes. Carefully loosen the cake with a knife and invert onto a large plate.
7. Prepare the glaze: chop chocolate and put in a small bowl; set aside.
8. Combine the remaining whipping cream, corn syrup, vanilla extract in a small saucepan. Cook the mixture, stirring, until mixture boils.
9. Pour over the chocolate and whisk until smooth.
10. Let cool to room temperature then spoon over the cooled cake. If too thick, thin with a little more cream.