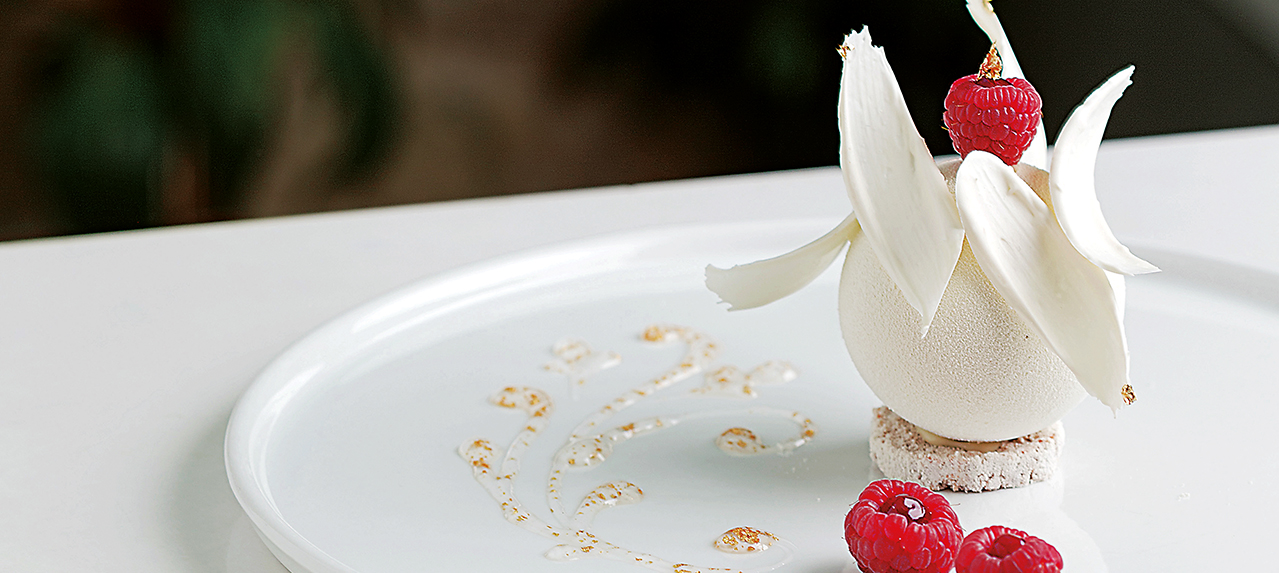 Shortbread
• 190g butter
• 2g fine salt
• 120g icing sugar
• 40g almond powder
• 50g eggs
• 320g flour
Almond and lemon sponge
• 100g marzipan 70%
• 20g lemon marmalade
• 70g eggs
• 10g egg yolks
• 1 pc lemon zest
• 15g flour
• 80g egg whites
• 15g sugar
Chestnut mousse
• 170ml milk
• 75g chestnut cream
• 16g sugar
• 60g egg yolks
• 4g gelatin
• 150ml whipping cream
1. For the shortbread, mix all ingredients together with a paddle. Wrap and refrigerate before rolling out to 5 mm thick. Cut 3 cm discs. Bake at 160°C for 8 minutes.
2. Heat marzipan in microwave to 55°C. Whip eggs and egg yolks, zest and marmalade. Then, whip a meringue with egg whites and sugar and fold into previous egg mixture.
3. Add sifted flour, spread on lined baking tray and bake at 150°C for 15 minutes.
4. For chestnut mouse, heat milk and pour onto egg yolks, chestnut cream and sugar. Cook to 83°C like English cream. Add soaked gelatin before folding in the lightly whipped cream. Place in spherical moulds
and blast freeze.
5. To assemble, pipe a small amount of chestnut mousse into a spherical mould. Add sponge, followed by mousse and finish with a sponge and mousse.
6. Freeze, unmould, spray with chocolate velvet and place onto a shortbread. Decorate with white chocolate petals, gold leaf and a fresh raspberry.