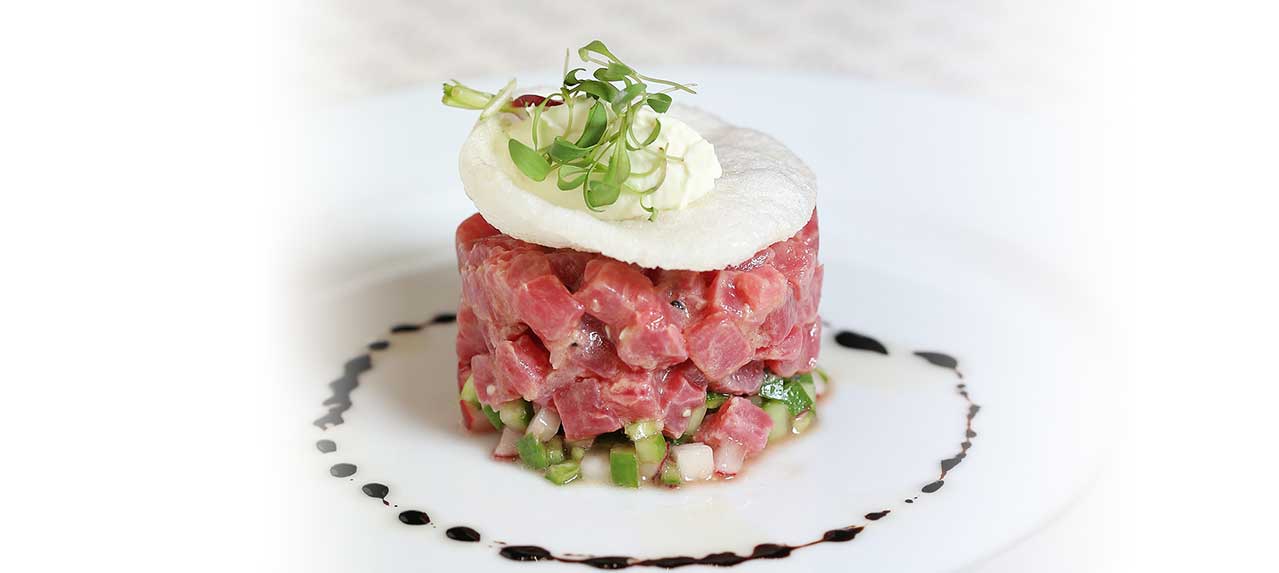 360g blue fin tuna
1 cucumber
4 radishes
100g Philadelphia cream cheese
5g Wasabi paste
30 ml sesame oil
30 ml olive oil
30 ml Yuzu juice
30 ml Teriyaki sauce
4 frozen prawn crackers
Salt to taste
1. Cut the tuna into 1 centimeter bites and refrigerate.
2. Slice the cucumber with the peel and remove the center with the seeds (it's bad for digestion according to Chef Gantner).
3. Finely chop the cucumber and the radishes. Marinate the radish and cucumber with the sesame oil, Yuzu and Teriyaki sauce.
4. Mix the Wasabi with the cream cheese and set aside.
5. Add the sesame oil and olive oil to the tuna and set aside.
6. Deep fry the prawn crackers in oil and set aside.
7. To plate, place the cucumber-radish mix in a metal cylinder. Add the tuna on top. Place the chip on the tuna filled with the cream cheese mix. Garnish with a sliced radish, baby coriander and a drizzle of sesame and balsamic oil.