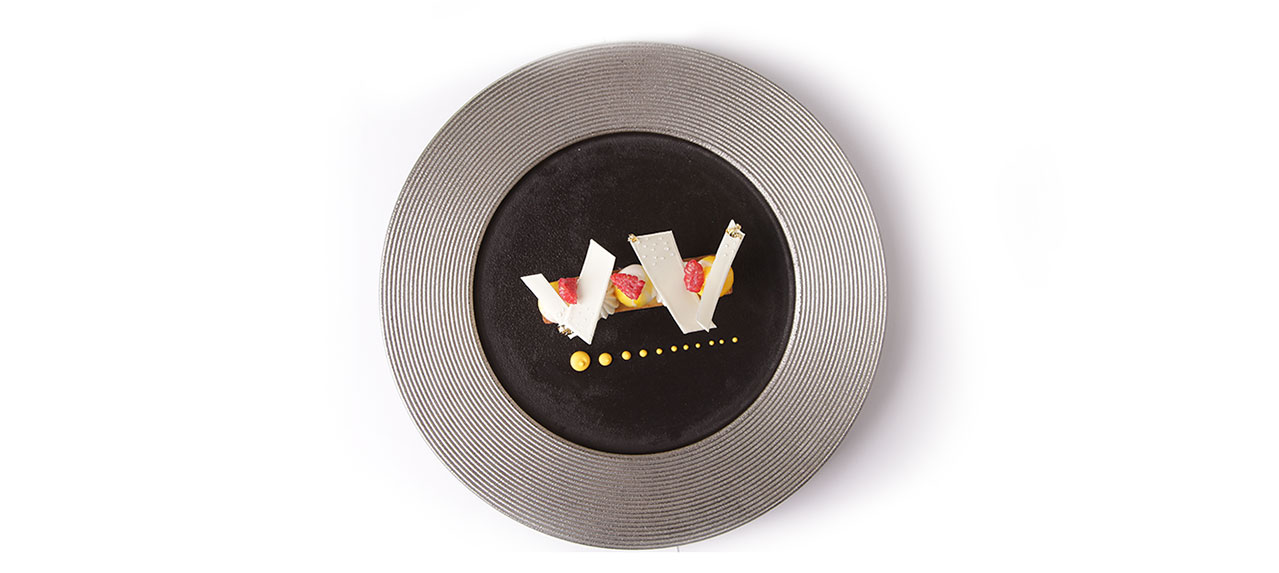 Coconut sweet paste
250 g flour
100 g desiccated coconut
100 g sugar
250 g butter
1 g sea salt
30 g eggs
60 g passion-fruit puree
30 g banana puree
20 g lime puree
14 g gelatine mass
100 g eggs
90 g sugar
150 g butter
225 g cream
15 g glucose
15 g inverted sugar
250 g caribbean cocktail puree "verger boiron"
35 g gelatine mass
450 g cream
1. In a mixing bowl, with a paddle attachment, rub together the flour, desiccated coconut, sugar, butter and salt. Add the eggs without overworking the paste.
2. Stock in the refrigerator for a minimum of 12 hours.
3. The following day, roll out the paste to 3 mm in thickness and line tart rectangles of 10 cm * 3 high.
4. Allow to rest the prepared frames then fill with ground almonds and bake in a fan forced oven at 170°C for 15 minutes.
5. Allow to cool then recuperate the ground almonds for future use in the filling.
6. In a saucepan, cook the fruit purees together with the eggs sugar until boiling.
7. Remove from the heat and add the gelatine mass and butter then mix well together. Stock for the assembly.
8. In a saucepan, bring to the boil the first cream quantity with the glucose and inverted sugar.
9. Add the caribbean cocktails puree and melted gelatine mass and then the second cream quantity.
10. Place the preparation in the refrigerator for 24 hrs at 4°C.
11. The following day, whisk the mixture in a mixer then pipe into silicon sphere moulds of 3 cm in diameter.
12. Place the moulds into freezer.