Serves 4-6 | Preparation 20 mins/cooking 1h 55 mins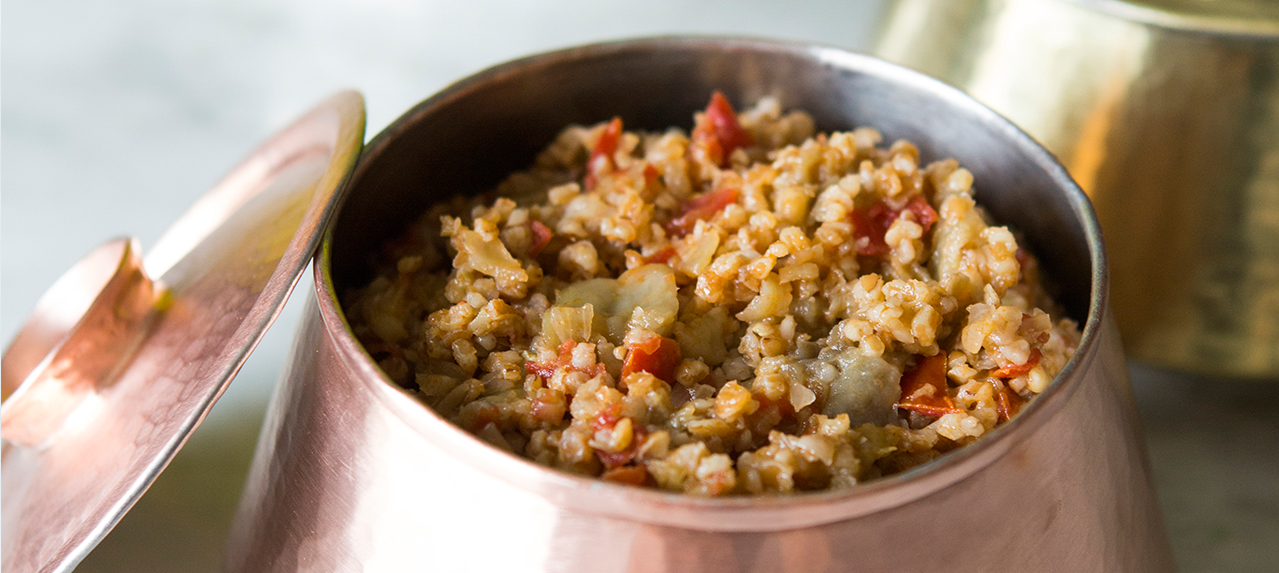 • 3 tbsp vegetable oil
• 3 onions, finely chopped
• 3 garlic cloves, crushed
• 1kg aubergine, peeled and chopped
into 3cm cubes
• 4 tomatoes, seeded and chopped
into ½ cm cubes
• 300 ml vegetable stock
• 250g coarse burghul, rinsed and drained
• Salt and freshly ground black pepper, to taste
To serve
• Yogurt
1. Heat the vegetable oil in a medium pot over medium-low heat. Add the onions and garlic. Season with salt and pepper, and sauté until the onions are translucent and the garlic is fragrant, about 15 or 20 minutes.
2. Increase the heat to medium and add the aubergine, stirring occasionally, until it starts to change color, about 20 minutes. Stir in the tomatoes, cover the pot and simmer for 30 to 45 minutes, or until the tomatoes have released their juice.
3. Pour in the vegetable stock, bring to a light simmer and add the burghul. Bring to a gentle boil, reduce the heat to low and cover for 20 to 30 minutes, or until all the liquid is absorbed and the burghul is al dente.
4. Transfer to a serving dish and serve, piping hot or at room temperature, with yogurt. If you prefer, replace the aubergine with zucchini – remove the stems, trim the ends, peel and chop into 1cm cubes before cooking.