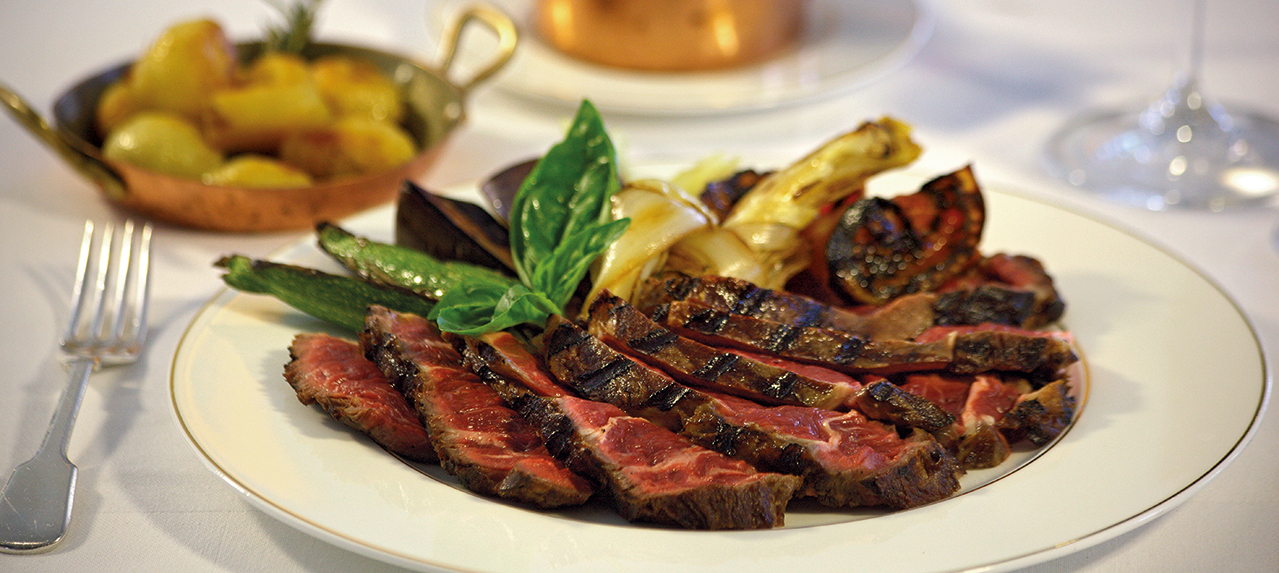 1-1.5 kg Bistecca (T-Bone steak)
1 zucchini
1 eggplant
1 endive
1 fennel
1 tomato
10 potatoes
Thyme, rosemary, basil sprigs
Salt and black pepper to taste
1. Cut the T-bone steak into 6-7cm wide pieces.
2. Press chopped rosemary onto both sides of the steak.
3. Set onto a plate and allow to marinate at room temperature for 1 hour.
4. Cook on a hot grill for 3-4 minutes each side (more depending on the type of cooking desired). Turn the meat just once. Finally cook "standing" on the side of the bone, for 5-7 minutes, until the blood disappears. The meat should be browned on the outside and raw inside.
5. Use tongs to remove the meat from the grill. Season with thyme, rosemary, coarse salt and
fresh ground black pepper.
6. Place the meat on a cutting board and slice off the bone in 1cm slices.
7. Wash the heads of the zucchini, eggplant, endive, fennel, and tomato, and place on the grill.
Season with salt and pepper.
8. Chop the potatoes into round slices of about 1cm thick and sauté in a pan with a dash
of olive oil until golden.