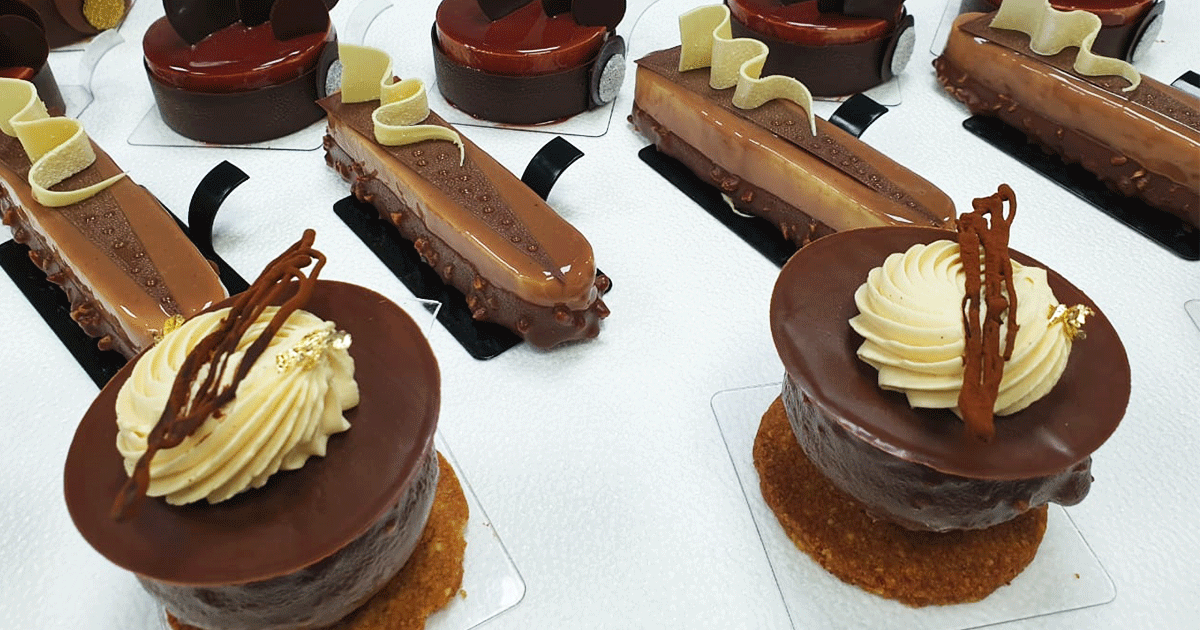 Reconstituted sable fondant
110g butter
50g sifted icing sugar
15g egg yolk
2g sea salt
120g flour
90g brown sugar
80g soft butter
Vanilla cream
300g cream
1 vanilla bean
45g sugar
70g yolks
35g gelatin mass
Light speculoos cream
90g milk
90g cream
90g egg yolks
200g Biskit Butter speculoos crunchy spread
63g gelatin mass
200g whipped cream
Gourmet glaze
700g milk chocolate
200g grape seed oil
200g caramelized chopped almonds
Reconstituted sable fondant
Use a mixing bowl with a paddle to mix the butter and the sifted icing sugar.
Add the egg yolks, salt and flour.
Pass the paste through a large holed sieve and bake in a fan forced oven at 1600C for 12 – 15 mins.
Cool down and mix adding the brown sugar and soft butter.
Set aside.
Vanilla cream
In a saucepan, make an English cream, adding the cream, egg yolk, scrapped vanilla bean and sugar.
Cook up to 850C then pour into a prepared filmed rectangle.
Place it in the freezer. Set aside.
Light speculoos cream
In a saucepan, make an English base with the cream, milk and egg yolk. Cook up to 850C. Pour it in a bowl and mix it with the speculoos and the gelatin mass through an electrical hand blender until it is smooth enough.
Add the whipped cream to the first base and mix upside down using a maryse . Set aside.
Gourmet glaze
In a bain marie, melt the milk chocolate and mix through the grape seed oil and caramelized chopped almonds.
Assembly and finishing
Using thermoformed moulds, which have been sprayed with spray, fill to halfway with the light speculoos cream.
Place in the middle the vanilla cream and cover with light speculoos cream.
Finish with  the reconstituted sable. Smooth over the level of the mould and place into the freezer.
Unmould each entremets and decorate with the gourmet glaze or with chocolate.
CHEF MOUHAMAD HAIDAR'S RECIPES