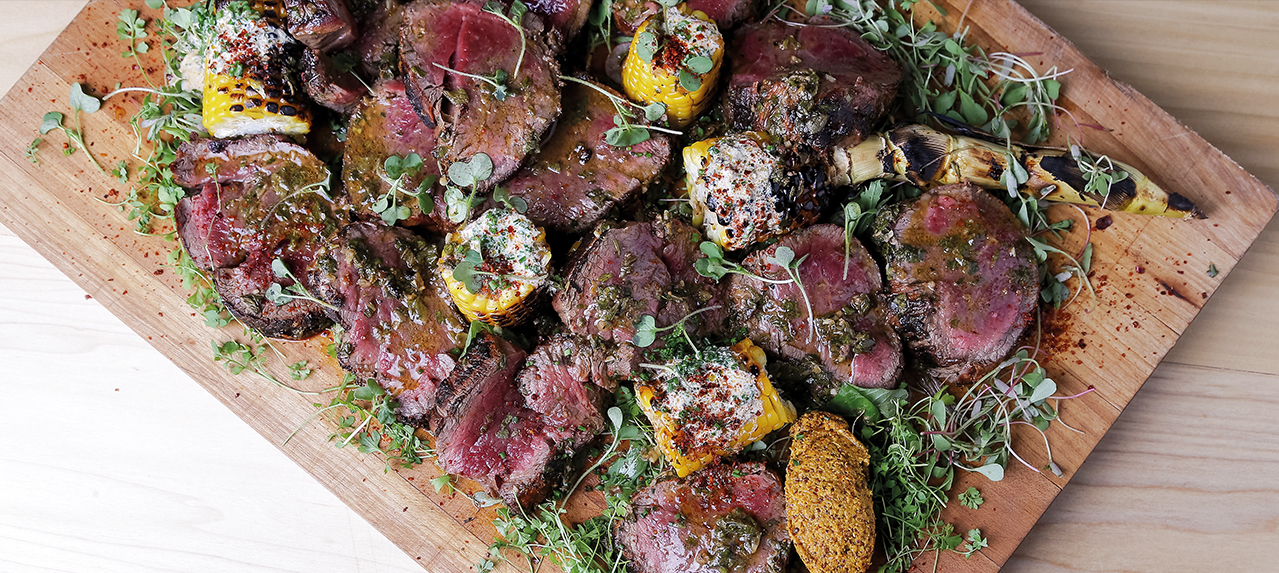 • 1 pcs. whole tenderloin mb5++ cut in half and tied
• 8 tbsp unsalted butter
• ¼ cup finely chopped flat-leaf parsley
• 1 tbsp freshly squeezed lemon juice
• 1 tbsp Worcestershire sauce
• 4 garlic cloves, peeled, halved, germ removed, and grated on a microplane grater
• 1 tsp crushed hot red pepper flakes
• Kosher salt
• Finely ground fresh black pepper
• About ¼ cup canola or vegetable oil
• 2 large, whole garlic cloves, peeled
• 1 bunch of rosemary, tied in an herb bundle
Marinade
• 1 tbsp crushed hot red pepper flakes
• 2 tbsp boiling water
• ½ cup Worcestershire sauce
• ¼ cup Dijon mustard
• 2 tbsp honey
• 1 tbsp Japanese soy sauce
• ½ cup coarsely chopped sweet white onion
• 10 garlic cloves, peeled, halved, germ removed, and grated on a microplane grater
• 1 tbsp Montreal steak seasoning
• 1 tsp dried oregano, preferably local wild
• 25g squid ink
1. For the marinade, place the pepper flakes in a small bowl and pour the boiling water over them. Let sit for 1 to 2 minutes to rehydrate the flakes.
2. Combine all of the remaining marinade ingredients in a blender, or in a bowl using an immersion/stick blender. Stir in the pepper flakes and the soaking water. Place the tenderloins in an extra-large re-sealable plastic bag (or divide between two large bags). Pour over the marinade, squeeze out any excess air from the bag, and close.
3. Roll the bag to evenly coat all of the meat in the marinade, and refrigerate for at least 1 hour or up to 3 hours max.
4. In a small saucepan, combine all of the resting butter ingredients, stirring to combine as the butter melts. Pour about ½ cup of the butter into a small bowl and set aside. Pour the remainder into a baking dish or disposable aluminum pan.
5. Remove the tenderloins from the bag, letting any excess marinade drip into the bag. Lightly pat dry with paper towels. Season lightly with salt and pepper and, using your hands or a brush, evenly, but lightly, coat with canola oil. It is preferable that the tenderloin be moved to a clean area of the griddle and grate every time they are flipped.
6. Depending on the griddle and grill size, they may need to be cooked in batches to ensure there is a clean portion of the grill to flip to. Place the tenderloins on the griddle, close the lid, and do not move them for 3 minutes. Flip the tenderloins over on the griddle, close the lid, and do not move them for 3 minutes.
7. Aggressively rub the bone and both sides of the tenderloins with the whole garlic (you may want to move each tenderloin off of the heat temporarily), then brush with the ½ cup of butter using the herb bundle.
8. Transfer the tenderloins to the grate. Continue to grill with the lid open until you reach the desired doneness; remove the tenderloin from the grill, place in the resting butter, turn to coat, and let rest for 5 minutes. Meanwhile, clean and re-oil the grill grates.
9. Place the tenderloin back on the grate and do not move them for 1 minute. Flip them over and repeat for 1 minute. Remove from the grill, place in the pan with the butter, and let rest for 5 minutes.
10. Drizzle some of the resting butter on the board and top with the tenderloin. Slice the meat into 3cmslices. Dredge in the butter and top with and sprinkle with fleur de sel and pepper.